Partnering With Citizens to Revitalize Lansing 
The Problem
Like other rust belt cities, Lansing struggled in the wake of the auto industry's decline and the recession of 2008 to reestablish its identity and economic footing.
While community-based organizations existed to address residents' needs, their efforts were not unified, causing inefficiencies and gaps in service.
What's more, organizations and residents felt disconnected from city government and unsure of how to get involved in rebuilding the city they called home.
"In Lansing, Michigan, government is partnering with citizens to revitalize a city that has long struggled in the wake of the auto industry's decline."
The Solution
A Chief Service Officer-like role opened the lines of communication with citizens and community organizations and fostered deep collaboration.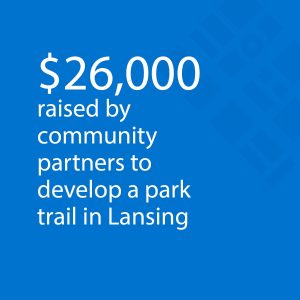 Mayor Schor appointed Andi Crawford as the first Director of the Department of Neighborhoods and Citizen Engagement — a cabinet level position akin to the role of Chief Service Officer. This appointment was a major signal to citizens that its government sought to open the lines of communication and work together in bigger and better ways.
Crawford immediately began developing infrastructure and systems to support unified, collaborative action on key priorities. She began hosting monthly Leaders in Neighborhood and Community Services (LiNCS) meetings, opening up communication and sharing resources and best practices between the city and community and business leaders.
Through the Cities of Service Love Your Block AmeriCorps VISTA Program, Crawford launched Love Your Block, a Cities of Service program that helps city leaders engage citizen volunteers to revitalize city neighborhoods, one block at a time.
The Results
The city's new way of interacting with its citizens has catalyzed change on the neighborhood level and citywide. One result? A brand new entrance to the city.
Neighborhood groups are fighting blight in their own communities through the Love Your Block program. In collaboration with the city, nearly 500 citizen volunteers have collected over 200 bags of litter, created 100 art displays, and cleaned up 20 parks.
On a citywide level, members of three neighborhood organizations partnered with the city and interested citizens to connect several vibrant neighborhoods with biking-walking trails, activities, and art displays by local artists. The Point West Art Trail serves as a gateway to the city, a community gathering place, and a landmark unique to Lansing. The city leveraged a $5,000 Love Your Block mini-grant to lay the physical groundwork, and, with the help of Andi Crawford and Cities of Service Love Your Block AmeriCorps VISTAs, volunteers installed signage, crosswalks, and other street features in preparation for the larger project.  The VISTAs also helped the team connect with a wide range of partners to encourage cross-sector buy-in from additional organizations including the Lansing Department of Parks and Recreation, the Michigan Department of Transportation, and the Department of Planning and Neighborhood Development. Partners raised $26,000 to fund the development of the trail, which today serves as a point of pride for residents and as a distinct, memorable point of entry into the city.
"The partnership with Cities of Service allowed me to have some credibility beyond what my own ideas were. There's a real need for this type of work at the highest level – the power of the citizen to advance city priorities is an entirely new way of thinking."

Andi Crawford, Chief Service Officer, City of Lansing
Explore more Chief Service Officer City Spotlights.