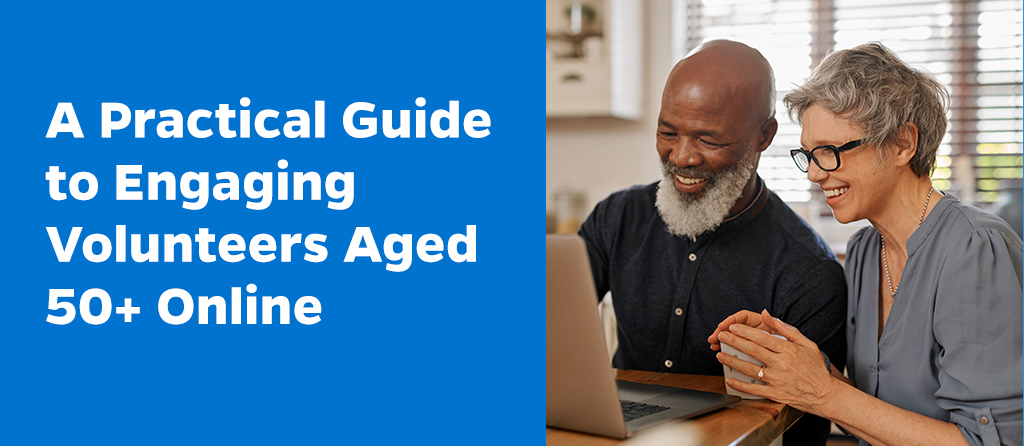 The COVID-19 pandemic has accelerated a dramatic shift in American communities towards virtual resident engagement. As organizations consider how to adapt to this increasingly digital landscape, local leaders have an opportunity to understand the needs of community members and design online engagement strategies that are effective and accessible to all.
Local leaders across the country strive every day to engage residents equitably and in a way that accurately represents the population, includes the voices and expertise of historically marginalized communities, and is sustainably undertaken. As the population of adults aged 50+ in the U.S. grows, it is also increasingly important for city leaders to design engagement efforts that include the perspectives, talents, and skills of older adults. Virtual engagement presents openings to meet these challenges as well as new obstacles to overcome.
Virtual resident engagement: The use of digital means to connect with residents and assess issues with the community, deliberate together, spur volunteer action, and sustain communication.
This guide is based on research done by Public Agenda, as well as insights gained by Cities of Service and AARP while engaging residents online during the COVID-19 pandemic. Since 2009, Cities of Service has helped cities engage residents to solve problems. Our engagement model brings city leaders together with residents to identify and assess priority challenges, deliberate with the community, take action, and demonstrate impact to encourage ongoing participation.
Purpose: This guide will help city leaders, staff, and partners engage residents with intentional and well-designed virtual engagement efforts that:
increase access,
ensure security and privacy,
expand representation,
strengthen deliberation, and
sustain ongoing action and communication.
Who This Guide Is For: This guide is for practitioners of resident engagement, including city leaders and staff, as well as nonprofits and other organizations that work closely with city government, with a particular focus on engaging community members aged 50 and over.
How to Use This Guide: We've constructed this guide to help practitioners:
assess the issues they wish to address with residents,
deliberate with the community, and
take action and sustain communication.
This guide will help practitioners think through this process when applying a virtual engagement strategy. We have included tips to help practitioners engage diverse audiences in their communities, especially those aged 50 and older.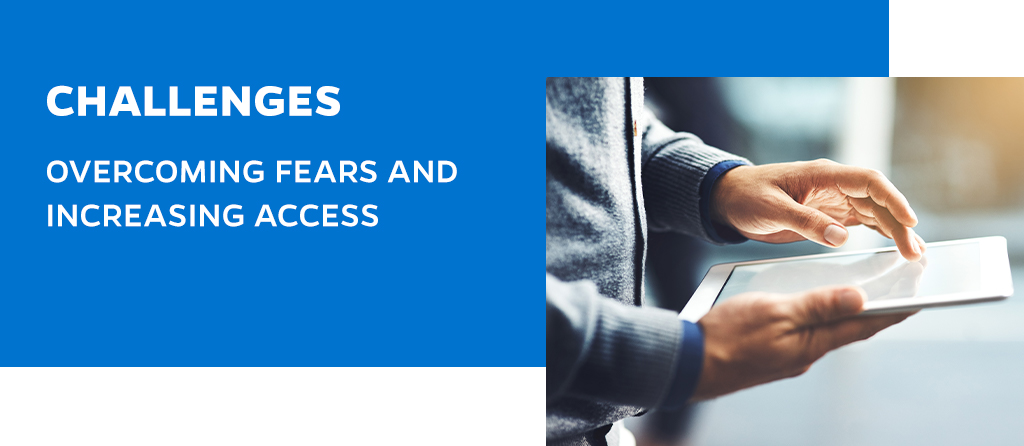 Engaging residents online presents certain challenges that should be kept in mind when designing virtual engagement initiatives.
Lack of Access Among Older Adults
Those who lack both high-speed internet service and a smartphone are disproportionately likely to be from certain segments of the population. Notably, 40% of Americans ages 65 and older lack high-speed internet. While nearly 80% of adults aged 50 and older use a smartphone, that percentage falls to 62% of those aged 70 and older.* In contrast, 92% of those aged 18-49 use smartphones. Additionally, fewer Black and Hispanic Americans have high-speed internet at home than White Americans, and while more than 90% of Americans with incomes over $75,000 have high-speed internet access at home, this drops to 72% for those between $49,000 and $30,000, and 56% below $30,000.**
Fears About Data and Online Privacy
For good reason, residents are often hesitant to share personal information because they do not know who their data will be shared with and how it will be used. They may be less likely to participate in activities that require them to log in to a service or register. This concern is more pronounced among older adults: only 14% are extremely or very confident in online privacy, while 40% are somewhat confident and another 48% are not very or not at all confident.*
COVID-19
COVID-19 has amplified some of these connectivity challenges. The pandemic has prevented in-person gatherings that local governments have traditionally used to engage the public. In addition, social media and email are severely limited in their reach: only 18% of older adults follow government accounts, for example.* The result is that it can be difficult for city leaders to reach a large number of their community members online.
* "2020 Tech Trends of the 50+." Nelson Kakulla. Brittne. Washington, DC: AARP Research, January 2020. https://doi.org/10.26419/res.00329.001 
** "Internet/Broadband Fact Sheet." Pew Research Center, Washington, D.C. (April 7, 2021) https://www.pewresearch.org/internet/fact-sheet/internet-broadband/#who-is-smartphone-dependent.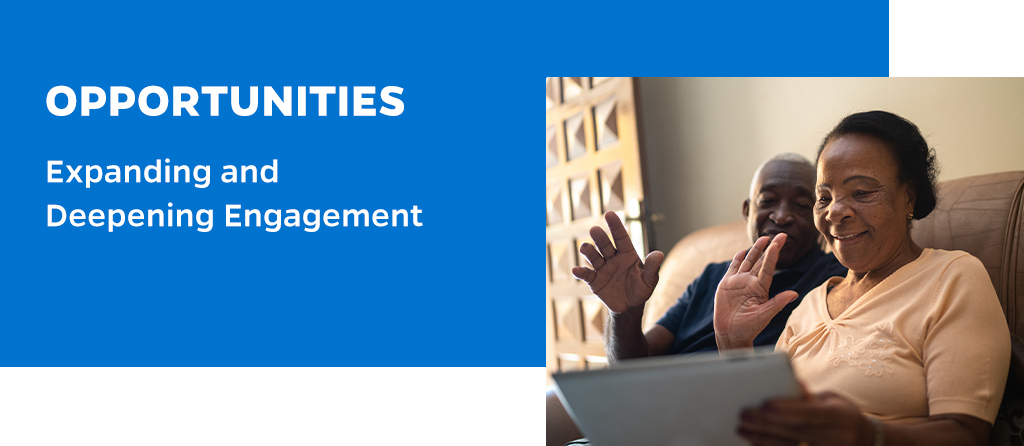 Despite these challenges, when done thoughtfully, virtual engagement offers opportunities to expand and deepen engagement with local communities.
Expanding Representation
Most city officials know that a lack of resources, as well as historical neglect and marginalization, makes building connections with members of some communities a challenge that requires intentionality. This is especially true in communities where lower incomes mean that lack of access to transportation or childcare present major obstacles to participation. Due to these barriers, the community members who are most impacted by the topic and the interventions planned are often absent from deliberation and problem-solving discussions.
Virtual engagement efforts can help overcome some of these obstacles. For example, residents can attend online meetings without the need for additional childcare or transportation. Additional outreach, training, resources, and well-designed engagement activities can address barriers to   virtual   participation—such a lack of access to technology and unfamiliarity with online platforms— and allow city officials to expand representation of those whose voices are most needed.
Strengthening Deliberation
City leaders are well-versed in gathering input, generating ideas, and supporting resident action through engagement techniques like surveys, interviews, academies, and participation in   traditional   groups like boards and commissions. Virtual engagement techniques provide these city leaders with new ways to encourage deeper deliberation, during which residents learn about issues from various points of view, work through tensions, and develop and assess solutions in order to choose those with most benefit for all.
Deeper virtual engagement has the potential to foster to conversations across differences, which can lead to better solutions.
Sustaining Ongoing Action and Communication
Solving complex challenges requires a number of partners, including residents. Each of those partners typically has their own needs assessments, studies, and potential solutions. Often these resources are not cohesively collected but instead community members must find time to read various reports, attend numerous meetings, and talk to different staff in hopes of understanding the city's strategy. This can leave residents frustrated and disconnected. With sustained, intentional engagement and communication tied to a larger strategy, residents can more effectively tackle important local problems.
Virtual engagement tools and well-designed volunteer activities, both virtual and in-person, can ensure that the efforts of residents impact important problems and that residents remain connected, informed, and engaged in the long-term.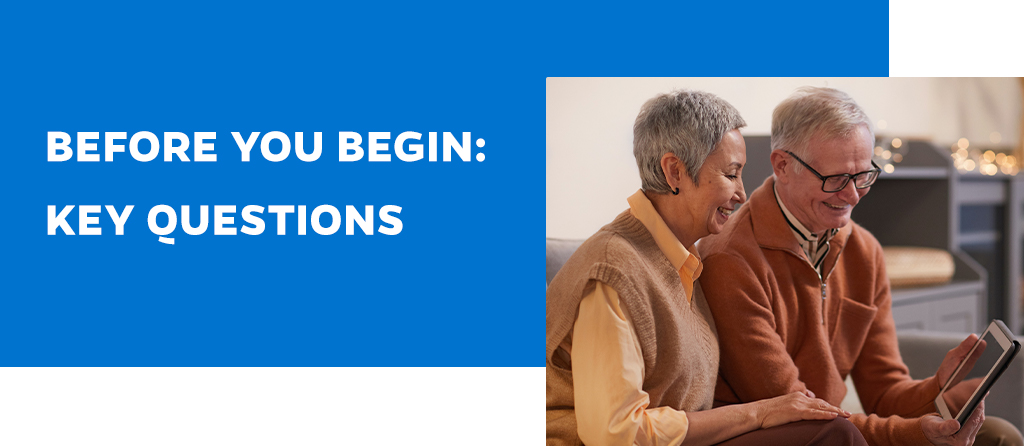 Virtual engagement techniques are only as good as the preparation done before implementation.
We have prepared a set of questions that you should answer prior to employing any virtual engagement techniques. These questions will ensure that you have clear goals, a defined plan, and that your efforts will make an impact on problems that are a priority for the community and the city.
Who
are we trying to reach?
should be facilitating and managing the virtual engagement tool(s)?
will have access to data, and for what purpose(s)?
should be involved in the design, implementation, and assessment of this virtual engagement initiative?
What
are the goals for this virtual engagement?
principles —such as equity and transparency—will be followed as the virtual engagement strategy and tools are chosen?
might prevent those we want to engage from participating?
resources do we need in order to ensure inclusive and equitable participation with the virtual engagement initiative?
will follow up and communication look like during and after the virtual engagement?
virtual engagement tools align with our goals, as well as inclusion and equity commitments?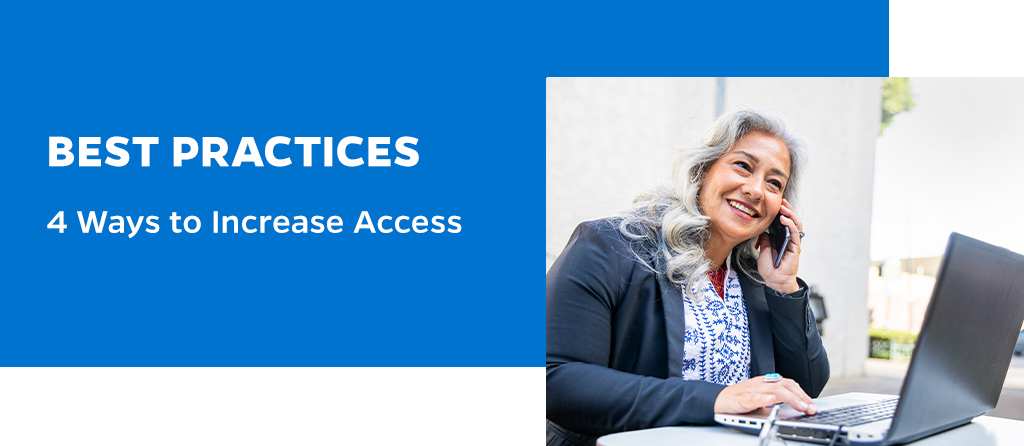 As you design your initiative, keep in the mind the barriers to access that residents might face. These may include lack of knowledge, technological skills and awareness of engagement opportunities, as well as access to equipment, software, and high-speed internet that are required to engage online. Barriers are also presented to people whose primary language is not English and people
with disabilities.
There are several ways cities can overcome these barriers, including the following four steps:
1. Start with a Familiar Platform to Overcome Knowledge Barriers
Sometimes the best way to get less tech-savvy audiences engaged digitally is to start with familiar platforms or software and then introduce more complex features later on. This might mean starting with certain frequently used tools and gradually integrating tools with more features and complexity (to the extent they can help you achieve your goals).
For example, Facebook makes an excellent starting place for older adults. Of all social media platforms, it is by far the most popular with people in the 50+ community: 63% of adults aged 50 and older use Facebook.* You may wish to begin engagement using Facebook Live or other tools that easily integrate with Facebook rather than tools that require additional software and training. Other familiar platforms cities can employ include texting and phone calls.
In cities like South Bend, Indiana, and Flint, Michigan, for example, residents can report information about vacant and abandoned properties using their mobile phones.
2. Increase Access to Technology
There are a number of creative ways for local government to increase access to technology.
In Wichita, Kansas, the city used an AARP Community Challenge grant to loan WiFi hotspots free of charge to residents without internet access. Other cities like Chattanooga, Tennessee, have recruited volunteers to train older adults how to use technology.
Other steps that cities can take to establish access for those aged 50+ include setting up kiosks at places like grocery stores and faith centers and establishing partnerships with companies or gathering places that have the necessary infrastructure to increase access.
3. Address Barriers Related to Interpretation and Disability
When planning any engagement, city officials should ensure that activities are accessible to people with disabilities.
This is particularly salient when organizing engagement over video conferencing. Several items to consider are:
Usability: Is the video conferencing software easy to use?
Screen Readers: Does the software work with both newer and older screen reading technology?
Captions: What options does the software offer for captions?
Sign Language Interpreters: Can users view or pin the speaker and sign language interpreter at the same time?
Interpretation: Does the video conference offer real-time interpretation services?**
As you prepare for your engagement, create accessible materials and slides and communicate with participants ahead of time about what they can expect during the engagement activities. Be sure that materials are translated into any languages commonly used in the community.
4. Invest in Outreach
Before you engage virtually, take time to understand the community you wish to reach. City staff may wish to work with departments that are closely connected to local communities or partner with organizations with existing connections.
Regardless of your approach, keep in mind that effective engagement requires investment in advertising and getting the word out so that people know how, when, and where to connect with you. Reaching out will help you better understand the technology, internet access, and skills that are available within the community and decide what type of engagement will work best.
Unless you are proactive and find ways of meeting people where they're accustomed to being—in both offline and online spaces—very few residents will participate. The fanciest tools won't do you any good if people don't know they exist or find it difficult, overwhelming, or not worth the effort to engage.
Working with residents to instigate peer-to-peer outreach is an especially effective approach. Residents are more likely to attend something if they hear about it from a friend. That applies to older adults, though it may require adapting techniques, such as organizing volunteers to send handwritten invitations. In addition, provide trusted sources such as city commissions on aging or local AARP chapters with information so they can share it during their meetings and events.
Additionally, be sure to collect and share basic demographic data (age ranges, ethnicity, primary language, etc.) with those managing the engagement process. This can help you ensure all demographic groups are represented and design better programs.
* "Internet/Broadband Fact Sheet." Pew Research Center, Washington, D.C. (April 7, 2021) https://www.pewresearch.org/internet/fact-sheet/internet-broadband/#who-is-smartphone-dependent.
** Adapted from "Equitable and Inclusive Engagement: Creating an Accessible Virtual Meeting Space," Nicole Cabra and Paul Khouri, January 27, 2021. https://www.publicagenda.org/newsroom/equitable-and-inclusive-engagement-creating-an-accessible-virtual-meeting-space/.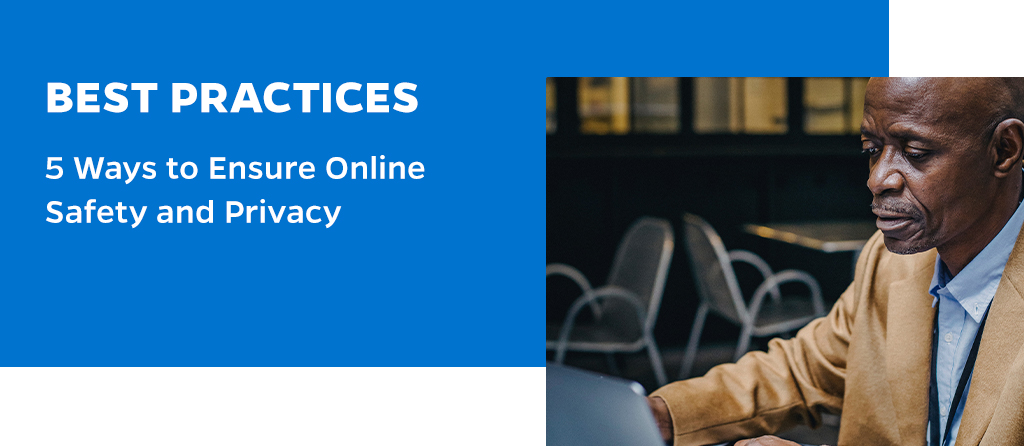 As cities adopt more online engagement tools, it is essential that those managing the systems and those interacting with such systems (the general public) have a good awareness of basic digital security best practices. Effective online safety requires a holistic approach, and we encourage you to share resources like the Security Planner with those inside and outside your organization.
A few basics that are essential for everyone to keep in mind include:
1. Keep Systems Up-to-Date
Whether on a personal computer or a government website, keeping operating systems, servers, software, and applications up-to-date is critical to keeping systems running and secure. Turning on automatic updates for personal computers and smartphones is a simple and easy place to start.
2. Create a Plan to Deter and Respond to Online Harassment
No employees or members of the public should have to deal with online harassment, especially when engaging with a government entity or organization. Before launching a tool or initiative, be sure to consider ways in which abuse could occur and put a plan in place to mitigate it. A good place to start is by having moderators for online forums and setting clear and enforceable ground rules.
3. Practice Good Account Security
For systems that require log-ins, like Facebook, the use of strong passwords and two-factor authentication is essential. Encourage their use by the public and require city employees to use them.
4. Educate Users About Scams and Phishing
Make sure that you're clear about which systems are set up and supported by your organization. Sometimes hackers or other bad actors will set up fake versions of government websites to steal data, cause confusion, or make a profit off of unsuspecting users. Clear public messaging and sharing resources, like this simple phishing quiz, can help raise the level of awareness and make it harder for bad actors to disrupt your online engagement efforts.
5. Be Clear about Digital Privacy
Take the privacy of any data that you collect during virtual engagement processes seriously. Here are some critical points to consider:
Understand what data you are collecting, and ask yourself whether you really need to be collecting it. Does it actually serve a purpose? There may be very good reasons to avoid anonymity in some cases, but in others requiring people to provide their name or other personally identifying information could present an unnecessary barrier to use. Such requirements can also skew participation towards certain populations.
Inform participants about what data you and the systems you're using are collecting, and give them an opportunity to opt-out of any data collection where feasible.
Keep private communications private, and public communications public. Be very clear about what information you request or collect can be viewed by the public or other entities.
Responsibly secure any personal data you collect. Ensure you have secured any computers, systems, or databases that might hold potentially sensitive or private information.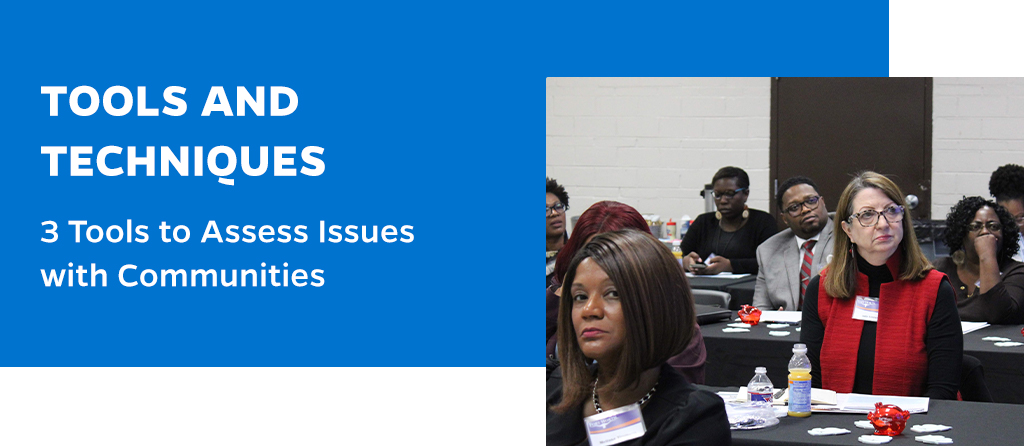 Connecting with residents and tapping into their experience and expertise can help officials better assess the problems cities face and their effects on local communities. These techniques provide several avenues for residents to contribute their thoughts and ideas digitally. This kind of virtual engagement offers opportunities to reach more residents who may not otherwise attend meetings and to gain insights that better represent the lived experiences of communities across the city.
Key features to look for when considering a virtual engagement tool for assessing an issue with residents:
Easily usable by phone and computer to increase accessibility
No log-in required, which can increase participation rates
Ability for residents to make anonymous contributions, which can help residents feel comfortable and open to contributing their opinions
Allows residents to add information about their needs and ideas, as well prioritizing those needs and ideas
Built in features to analyze information and help leaders understand input from large groups of people
The following virtual engagement tools can be used independently or paired together in order to meet specific goals and enable cities to hear more voices and turn input into action:
1. SMS Conversations and Interactive Voice Response (IVR) Systems
Text messaging is one of the most accessible and user-friendly digital tools out there. As a result, texting can be an excellent on-ramp to digital engagement for those—including in the 50+ community—who might be less familiar with other tools and technologies. One option for connecting with the public via SMS is Text, Talk, Engage (TTE). TTE allows you to create specific scripts, including polling questions, that the public can access and answer by texting a keyword to a given number.
You can use these conversations to facilitate public discussion on important topics, provide information to the public about government processes, and even collect direct input to help make community-wide decisions.
IVR systems allow you to do the same thing via phone calls as opposed to text messaging. This can be another good on-ramp for those who might be less internet savvy. With IVR, users can dial into a number and use the touch-tone to answer questions and provide feedback on given ideas. One popular option for configuring IVR is Twilio, which is commonly used by companies to configure their call centers.
2. Live Polling
Live polling is an excellent way to deepen engagement during online town halls, community conversations, or other small- to medium-sized group sessions. Easily usable by phone or computer, Mentimeter is one option that allows participants to provide instant feedback on ideas, vote on concepts, and share their perspectives during a presentation or live discussion. Other popular options that provide similar functionality include Poll Everywhere and Slido. These systems all allow for completely anonymous voting.
3. Surveys and Other Tools
Surveys are a commonly-used way to gather input from residents. Three tools to conduct surveys include: Google Forms, the simplest option; Survey Monkey; and Qualtrics, a more complicated but also more robust survey tool.
Another option is Pol.is, a web-based application used for gathering, analyzing and understanding what large groups of people think in their own words, enabled by advanced statistics and machine learning. There are also tools specifically aimed at collecting feedback about budgets, such as Open Budget.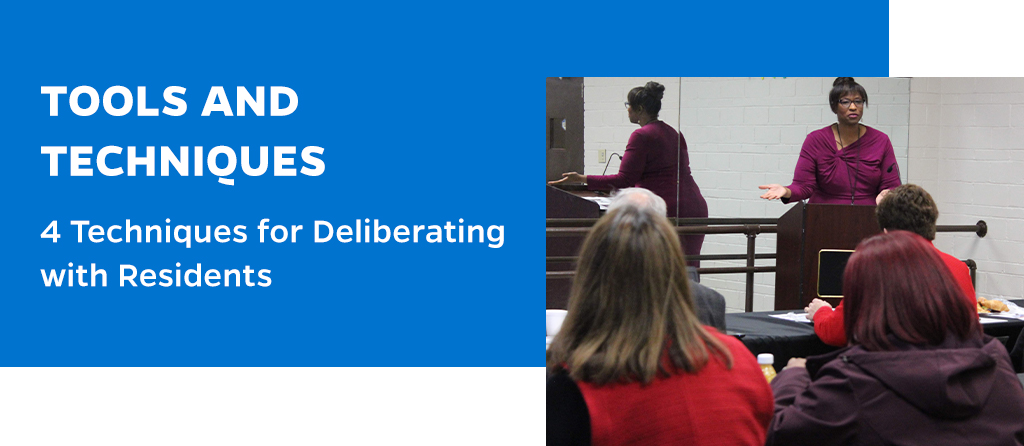 Effective deliberation involves several crucial elements: Working virtually or in- person with trained facilitators who utilize a variety of techniques, residents learn about the issue, discuss and consider various points of view, spark new ideas and solutions, and make decisions.
Effective virtual engagement has the potential to encourage deeper deliberation across differences and throughout diverse communities. Leaders can also collect some basic data while maintaining privacy and security, which will help them ensure that the entire community is accurately represented. Developing and maintaining a commitment to sharing data and leveraging allies inside and outside of city hall as well as engaging with a broader civic technology community can lead to more creative and effective solutions.
Key features to look for when considering a virtual engagement tool for deliberation:
No login required, which can increase participation
Ability to present critical background information about the topic being explored
Allow leaders to present multiple ideas to participants at a time for exploration
Sliding scale feature to indicate alignment/agreement
Ability to recreate common focus group and community conversation tactics, such as using sticky notes to collect and organize participant ideas
There are a number of virtual engagement tools that can be used for deliberation. With the exception of Common Ground for Action, the tools below must be combined to create an effective deliberation process.
1. Common Ground for Action
Common Ground for Action is built for deliberation and includes features and tools that help residents participate in each stage of deliberation, including exploring different ways of approaching issues, discussing the merits of solutions in small groups, and finding common ground.
2. Live Streaming
While social media can be used for a range of engagement purposes, Facebook Live is a feature very well suited for engaging the public and gathering input if combined with other tools. For example, you can use your city's Facebook page to host Facebook Live "town halls" and collect input via an active comment thread and Q&A session. Another option to consider is YouTube Live, which allows for many of the same capabilities via YouTube instead of Facebook. Be sure to moderate any live comment threads during Facebook or YouTube Live sessions to ensure a safe and comfortable environment for engagement.
3. Virtual Whiteboards
Virtual Whiteboards, like the free Jamboard app by Google, can be great options to deepen virtual small group discussion in your city. Best paired with live video or conference calls, Jamboard and more sophisticated online whiteboard tools like Miro can help you virtually recreate common focus group and community conversation tactics, such as using sticky notes to collect and organize participant ideas.
These tools present a low barrier to entry because all residents have to do to participate is click a link on an internet-connected device. With that said, it's best to build-in time for familiarizing new audiences to a tool like this before use to ensure all audiences involved feel comfortable contributing. Also be sure to make clear to virtual whiteboard users what notes and comments might be made public or shared with a wider audience.
4. Web Applications That Collect Feedback
One web-based application that allows for deliberation is Consider.it, which helps to facilitate public input on specific policy ideas or budget priorities. Consider.it allows you to gauge the public's favorability of certain proposals on a sliding scale, as opposed to a simple yes/ no vote, helping to bring nuance to the conversation. It does require a log-in to participate, however.
Another application is All Our Ideas, an open source platform which presents users with two ideas and has users choose between them or submit a new idea. This is faster and easier than responding to a list of questions and results in a rank ordered list of the public's preferences. All Our Ideas doesn't require a login and has an intuitive interface. If your audience has basic internet savvy, All Our Ideas should be usable for them, but you'll likely want to invest some time in introducing the platform to less tech-savvy users.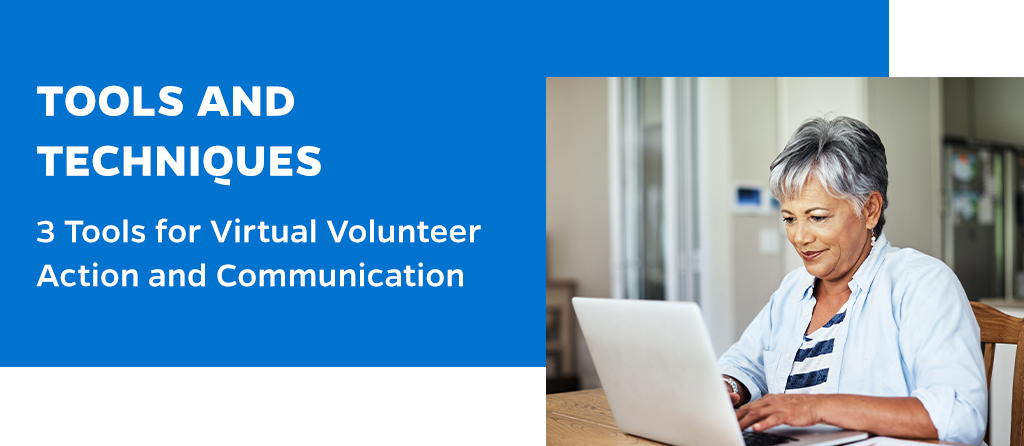 Activating residents so that they can solve problems in their community is an important part of creating sustainable engagement with communities. Virtual tools provide opportunities for improved communication and connection among staff and volunteers and within communities, ensuring that they are informed and remain engaged.
The techniques below include tools to recruit resident volunteers, improve ongoing communication, and create sustainable programs that involve residents. Most can support both in-person and virtual activities and projects.
Key features to look for when considering a virtual engagement tool for volunteer activation:
Ability to present critical background information about volunteer opportunities and how-to-guides that support volunteer action
Ability to track and showcase metrics related to the volunteer activities
Ability to centralize available funds like grants from the city and community partners, or integrate crowdfunding platforms
There are a number of virtual engagement tools that can be used for volunteer activation. These can also be paired in order to meet your specific engagement goals.
1. Text Banking
SMS is an excellent tool for first-time virtual engagement with less tech-savvy audiences. Tools like Hustle and ThruText allow you to leverage volunteers virtually to send out text messages and have engaged conversations with your list of contacts. These conversations can be aimed at informing the public, gathering further public input, or even recruiting more volunteers. Text Banking has been used extensively by political campaigns, and is an easy way to give people in the 50+ community an opportunity to volunteer from home.
2. Volunteer Portals and Crowdsourcing
Using platforms like ioby or Volunteermatch, you can post volunteer opportunities and recruit from a wide range of possible volunteers. ioby in particular is built around a crowdfunding platform, which gives opportunities to volunteers to donate monetarily if they're unable to donate time.
Create the Good is another site that connects residents   with   volunteer   opportunities   developed by AARP. Geared toward older adults, it allows them to share their life experiences, skills, and passions in their community. Residents can find and sign up for volunteer opportunities in their community, find project guides and ideas to help them develop their own projects, and post existing opportunities.
3. Relational Organizing
Relational organizing apps like Outreach Circle and Team take the concept of text banking to the next level, providing a platform to manage and continually engage volunteers. These tools require volunteers to either download an app on a smartphone or log in through a browser, which requires more tech savvy than other options. But with a bit of investment in up-front training, relational organizing tools can be a powerful option to keep volunteers engaged, allowing you to send opportunities directly to them.