Focusing Volunteer Efforts on Shared Priorities
The Problem
High levels of volunteer activity weren't making a dent on the city's most pressing problems.

Lack of coordination between parallel volunteer efforts undermined progress on the most pressing problems facing the city, effectively wasting the efforts of more than 35,000 volunteers participating in 45 different programs.
City departments, non-profit organizations, businesses, and neighborhood groups all ran volunteer efforts, yet there was no process or infrastructure in place to coordinate these efforts or align them to agreed upon, citywide priorities.
 The Solution
The Chief Service Officer worked with partners to focus and coordinate volunteer efforts around three priority areas. Mayor Greg Stanton appointed Michael Hammett as Phoenix's first Chief Service Officer. As CSO, Hammett worked with diverse public and private partners to prioritize three core volunteer initiatives for the city: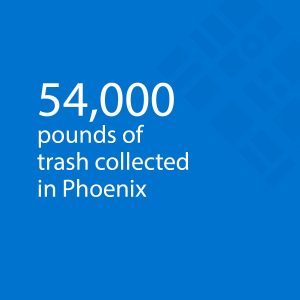 Love Your Block, a Cities of Service program that helps city leaders engage citizen volunteers to revitalize city neighborhoods, one block at a time.
Resilient PHX mitigates the impact of extreme heat and monsoon flooding in low-income neighborhoods.
Read on Phoenix tackles the city's literacy crisis by committing to making sure every third grader in the city can read proficiently.
Volunteer leaders drive each initiative, recruiting additional volunteers and collaborating with partners to implement plans.
The Results
The three volunteer programs that the CSO and partners agreed to prioritize are making a difference.
The Love Your Block program has been around since 2015, but its growth and impact in the past year is unprecedented. Thanks to extensive outreach, new neighborhoods are getting involved. In fact, in the past year, 23 neighborhood leaders applied to be part of the program – more than ever before. Over 4,000 program participants have produced 85 neighborhood art displays, hosted 79 community events, cleaned up 36 lots, and gathered 13.5 bins of litter.
Resilient PHX reached 3,500 residents through its "We're Cool" campaign, which helped residents find their way to over 1,000 cooling refuge stations during times of extreme heat. More organizations and community volunteers participated in resilience workshops than ever before.
In 2015-16, 147 tutors supported 535 students at 16 schools. In 2016-17, currently there are 158 tutors supporting 570 students at 16 schools. This year the city aims to engage nearly 200 volunteers in tutoring 700 students.
"By working with partners to focus volunteering initiatives on shared priorities, we were able to focus on common goals and make an impact on our city's most pressing challenges."

Michael Hammett, Chief Service Officer, City of Phoenix
Explore more Chief Service Officer City Spotlights or learn more about Phoenix's Service Plan.