"My favorite part of the whole project was seeing everyone come together. There was someone from every age out there, participating, putting their hands in the dirt."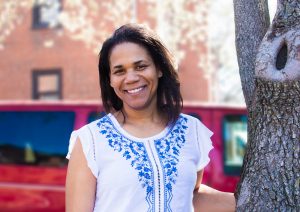 Born and raised in Jersey City, Afaf is committed to being an active citizen. For the past seven years, she has been a resident of Marion Gardens, an affordable housing community in Jersey City. She is now a trustee on the resident council and leads art programs for children in the community.
She participated in a tree planting project for the city's citizen forestry program, which grew out of the Cities of Service Prepared Together program and was designed to expand the urban canopy. "I really feel like it's important for us to have greenspaces," she said. "We're tired of looking at broken glass and garbage."
This project has sparked other ideas, such as building garden boxes in barren areas of the neighborhood with the help of youth and other members of the community. With these projects, Afaf hopes to both beautify her neighborhood and teach others to do so as well.