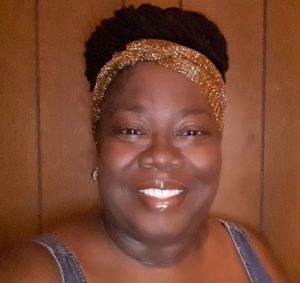 Coletta Strickland was an Experience Matters AmeriCorps VISTA member in Fort Worth, Texas. Alongside city staff and her fellow AmeriCorps VISTA member, she worked with local community stakeholders to design a financial empowerment curriculum, including a series of workshops. When COVID-19 hit, she helped move the workshops online. We spoke to Coletta about her service year and what she brought to the Experience Matters program in Fort Worth. 
What made you decide to apply to be an AmeriCorps VISTA member? 
What made me decide? Passion for the cause.
When I saw this, I thought, "Yes, this is so needed." I had seen initiatives in the city come up and disappear, and I wanted to be part of making it happen. I said [to myself], "You want to make sure this program moves forward? This is the way to make it happen." So I committed to being a VISTA full time. 
I'm an entrepreneur. I haven't worked in an office for 20 years. It was a change but it was something that I'm very passionate about and I wanted to make sure it came to fruition. 
What skills, relationships, and expertise did you rely on during your service year?
I'm the president of an organization called Minority Leaders and Citizen Council. Through that relationship, I was able to bring to the table potential volunteers that were in the 50 plus category. Sonia Singleton, who was assistant director of Neighborhood Services at the time, came to the organization and spoke about the program and Neighborhood Services. That's one example of connecting the community to the program. I'm able to bring those relationships to bear. 
Life experiences give you a different perspective on the issues at hand. That's the benefit of having VISTAs with experience. 
I also have a technical background. I was with IBM for 20 years. So all that came into play, especially in logistics, and making sure we had the technology at the different sites we would be using. And when we went online, with my expertise and my computer skills, I was able to set up all of the Eventbrite schedules. I created a powerpoint. I hosted the online workshops. My teaching experience helped — my background is in teaching adults and I've been teaching adults at the city's Business Administration Center for four years. I brought everything I had to the table. 
How did Cities of Service support you during your service year? 
Cities of Service helped keep us focused by the requests that they made of us – putting together event reflections and doing our monthly reports. 
They also made the VISTA experience enjoyable. Bringing us together as a cohort made it a little less frustrating. You feel like you're not alone when your compadres are working through some of the same things — you don't feel isolated. That was really helpful. So was bringing us together on a regular basis to discuss what we were doing and getting some best practices and getting ideas from other VISTA members that are working on the same program.
What are the benefits of being a more experienced AmeriCorps VISTA member? 
Life experiences give you a different perspective on the issues at hand. Having worked in the mortgage industry, having worked in the financial planning industry, and teaching those small businesses classes, I brought a perspective on what was needed. I knew you can't just do a cookie cutter presentation for the population we were targeting. 
Initially, we started off talking about "financial literacy." The word literacy — to the people that we're looking to help — implies that they're not literate. And no one wants to come to that voluntarily. People are not unaware of their circumstances. They are fully aware. So my experience brought in the use of different words when presenting the program. We started talking about "financial health." 
And that's the benefit of having VISTAs with experience. You have lived the life and you already know some of the things that work and some of the things that won't work.