AmeriCorps VISTA Member Kimberly Braden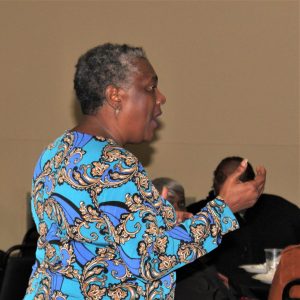 Kimberly Braden was an Experience Matters AmeriCorps VISTA member in Birmingham, Alabama, where she organized workshops and service days to help older residents perform small home repairs and increase energy efficiency. When the city issued stay-at-home orders in March, she found new ways to support residents. 
What made you decide to be an AmeriCorps VISTA volunteer? 
I semi-retired in 2008, so I work some and try to play a lot and I travel extensively. After doing an AmeriCorps VISTA year in 2014 with a local nonprofit here in Birmingham, I made a decision that every four to five years I would try to do something to give back to my city. It's very important to me at this point in my life to give back. 
How did your activities change during the pandemic? 
After the workshops in February, the plan was to lead right into our day of service, which would have put us in people's homes. Of course, we were not able to go into people's homes due to COVID-19 and the program was temporarily suspended, so we decided to partner with our local state representative for the district, Yolanda Hollis. I contacted her to find out what was needed in the district. 
It's very important to me at this point in my life to give back. 
We found out that they were doing USDA food produce drives across the city. They were doing large drops at specific locations and that would leave some neighborhoods in what I would call "food produce giveaway deserts." There might be a thousand food boxes in one location on any given day, and I would move 25-50 boxes into other neighborhoods where people needed them and in some cases would deliver them directly to elderly residents. 
What skills and relationships did you rely on during your service year? 
I was a project manager in my previous life in corporate America for about 11 years. Prior to that I was an unofficial project manager – different title but same skillset. I've worked in that field for probably 20 plus years and in event management for the past six or seven years. So those two skillsets combined were just the perfect set for what the city was looking for. I was able to utilize things I've used my entire career.
In addition, some of the work I've done in the past two or three years involved community engagement, largely in our nonprofit sector. So that particular work has allowed me to know people in every industry across the City of Birmingham in addition to the larger corporate partners. And so it made it easier to pull those partners in when it came to putting together workshops.
One of the main partners that I brought was Allstate. I've had a relationship with them since the early 80s. So Allstate came to our workshop and talked about the importance of maintaining your home from the perspective of homeowners insurance, understanding homeowners insurance, what it covers and what it doesn't. We also had a bank, we had a realtor, in addition to other partners. 
What did you enjoy most about working with the city? 
What I enjoyed the most was having a true understanding of how the city actually works. The City of Birmingham has a unique program called the Academy of Civic Engagement. It's a program that runs about eight weeks and each week you meet people from each of various offices. So we met with someone from 911, we met with people from permit and engineering and planning, legal, public works. I learned from the ground up how the city works. 
Are there any favorite moments from your service year that you can share? 
I was doing a box delivery one day and a lady stopped me and said, "Hey, how are you doing?" And she said, "You don't remember me do you?" I meet a lot of people dropping off 50 or so boxes a day, but she said, "No, it was at your workshop." She told me how much it meant to her that we had taken the time to bring citizens in. I think for me that was the most awesome thing – when you impact people, they want you to know that you touched them.
What are the benefits of having VISTAs with more experience? 
The zip codes we were working in had a lot of meaning to me. I was born in one of the zip codes, I live in another, and I have friends and family in the third. It was important to be able to take my experience and bring it to that area. 
You take a person like me who's worked for 30 plus years – I can take a lot of those experiences and apply them.
You take a person like me who's worked for 30 plus years – I can take a lot of those experiences and apply them. For example, the projects I handled when I was working averaged three to eight million dollars per project. They were very large in scale and very large in scope and required a high level of attention to detail. When you have the ability to take things you've learned and apply those directly to smaller scale – it makes it easier to bring in people and resources that you already have in your bag of tricks.