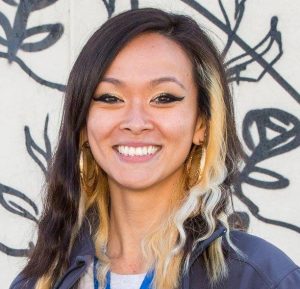 Stephanie Ny served as a Cities of Service Love Your Block AmeriCorps VISTA member for two years in Richmond, California. During that time, she administered the city's Love Your Block mini-grant program, which included providing support to neighborhood groups, building connections within the community, and more. She is now employed with the city of Richmond as the Love Your Block Program Manager, where she uses the skills she learned during her service. 
Can you tell us about the work you do now for the city of Richmond? 
I've been working full time coordinating Love Your Block. As of right now, we don't have mini-grant funding, but we are being creative in what ways we can help support residents, whether that be connecting them to potential donors and local businesses or assisting in a logistical capacity and technical assistance. For example, I assisted Parchester Village, one of our target neighborhoods, to apply for a $3,600 grant that would help lead workshops for teenagers about the environment and ultimately ended in a service day, where everybody from the community came out to paint a mural.
In addition to that, we work a lot with our Parks and Landscaping Division, which is able to provide in-kind resources. That includes mulch or gloves or trash grabbers and trash bags, and our Abatement Division is also able to help residents get rid of the trash by picking it up. 
Over the years with Love Your Block, I also learned how important data can be. I'm working with our Parks and Landscaping Division to collect metrics from our volunteers who adopt parks, and to relay that to potential stakeholders, which will be really important as we continue to apply for funding.
How did your AmeriCorps VISTA service prepare you for the work you are doing now? 
It's given me so many skills that are transferable across jobs and across fields, as well as my personal life – whether that be planning or time management, project management and team building.
Before I became an AmeriCorps VISTA, all I knew is that I wanted to make a positive change. I'm so thankful that it led me to where I am today.
Before I became an AmeriCorps VISTA, I had no idea what I wanted to do with my life. All I knew is that I wanted to make a positive change. The Cities of Service AmericaCorps VISTA position really provided me with [direction for my career].
And in addition to that, I was very, very shy prior to this, and it really taught me how to engage with people and talk with them about what they need and how we can all work together. That's why I renewed for a second year, and I'm so thankful that it led me to where I am today.
Did your perception of city hall and city government change over the course of this year?
Yes, definitely. I went into VISTA not knowing how government functions at all. All I knew is that government was responsible for administering a lot of policies and procedures, but I didn't know what that looked like. I didn't know what a city manager was. So it really taught me how government functions, and, even to this day, I'm still learning, because there's always something new that's coming up.
What types of engagement are you doing with residents right now?
People know Love Your Block as the program that makes things happen with the community. 
In addition to Love Your Block, I've also been administering other volunteer programs across the city and my experience as an AmeriCorps VISTA member really has prepared me for this. The residents that we've trained over the years are able to function independently in a lot of ways and administer their own community engagement process. That means [doing their own outreach with] people at the neighborhood council meetings or in surveys, things like that, to determine what their needs are. 
Because I've built a rapport with certain community groups and certain residents, they reach out to me and say, "Hey, we're looking for funding to do this," or "We really want to continue our work in this location, but we don't have the money." And people know Love Your Block as the program that makes things happen with the community. 
Can you talk about residents or community groups that have inspired you? 
My experience in Parchester Village has been really valuable to me because it's a very tight-knit and physically isolated community –  basically, everyone knows each other. And so when I go to neighborhood council meetings every month, there's a group of people that are always there. And seeing how dedicated they are to Parchester and to improving safety and to making Parchester beautiful and putting Parchester on the map, because it's often forgotten – their drive and their passion is really inspiring for me.