Citizen Engagement
People Make the Difference
February 28, 2018
By Cities of Service
Cities of Service helps city leaders engage their citizens to help solve local public problems. We could not do this without support from generous corporations that believe in the importance of giving back. We are inspired to work with companies like JPMorgan Chase that understand that their dollars can go further when they invest time, people, and expertise to improve the lives of the people in cities across the country. That's why the firm has invested $150 million into Detroit's economic recovery.  As part of that investment, supporting employee efforts like Gary Wilson's, a vice president and branch manager at JPMorgan Chase, illustrates how one corporation's comprehensive strategy – one that includes dollars and people – can positively impact a city's efforts to rebuild.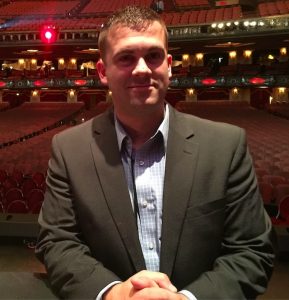 Gary grew up in Detroit and has lived in the area his whole life. He went to school at the University of Detroit Mercy and has been involved in community service since college. Shortly after he joined JPMorgan Chase's Michigan Volunteer Leadership Group three years ago, he was asked to serve as chair, and has a team of seven JPMorgan Chase employees on his team. All of these people have full-time jobs and manage the company's volunteerism for the entire state of Michigan – including programs in financial literacy, workforce development, and service days.
It was through Gary's work as chair that he learned about Cities of Service and our work to help Detroit develop a comprehensive service strategy. He met Vicky Kovari, the city's chief service officer, at a park clean-up project and joined her newly formed Partners in Service working group. Through his membership in the group, Gary participates in bi-monthly meetings at the mayor's office with all of the city's nonprofit and corporate partners where they coordinate their volunteer efforts across the city; solve problems around logistics and geography; and collaborate to reduce redundancies and form additional partnerships.
"Before the Partners in Service working group existed, the different entities in Detroit worked on our own and didn't make as great an impact," Gary notes. Now, he, along with other corporations working to help Detroit, is able to map out a plan for the year because he is on the ground and knows what his team can do and align it well with the needs of the community. Because of the increased efficiencies created, Gary has been able to vastly increase the number of employees engaged and expanded the group's efforts from 10 volunteer events per year to more than 35 last year. "The city gave us an overarching vision of what they're trying to accomplish, which not only gives us the ability to coordinate what we're doing in ways that were not previously possible, but also helps us make connections and build sustainable relationships across companies and sectors that benefit everyone in much bigger ways."
An example of a project that benefitted from the city's coordinated strategy was done with Life Remodeled, a Detroit nonprofit focused on neighborhood beautification. The leader of Life Remodeled joined a Partners in Service meeting to describe the work they wanted to do at an elementary school. The coordinated efforts of the group vastly expanded the impact they were able to have and made it much easier for a resource-strapped nonprofit to have multiple groups working together rather than having to reach out to each organization individually for help and trying to coordinate them on their own.
When asked why he is committed to this work – which some weeks is almost a second full-time job – Gary explained that running JPMorgan Chase's Michigan Volunteer Leadership Group was the best way for him to increase his involvement in the community and be a helpful resource to others. "It started as a way to be more involved and do more from a work standpoint. I don't know what I would do without it now. I wouldn't want to do anything else," Gary says. JPMorgan Chase and the City of Detroit are lucky he feels this way.