How Anchorage is Working with Citizens to Improve Food Security
By Rosalind Becker Erwin
There was still snow on the ground when Mayor Ethan Berkowitz and AmeriCorps VISTA Member Catherine Kemp went door-to-door in the Fairview neighborhood of Anchorage. But their outreach about locally-grown food and improvements to the neighborhood park got people looking forward to spring. Not only were residents excited to hear that the local food movement was coming to Fairview, they were surprised to see a representative of the mayor—and the mayor himself—coming to ask for their input.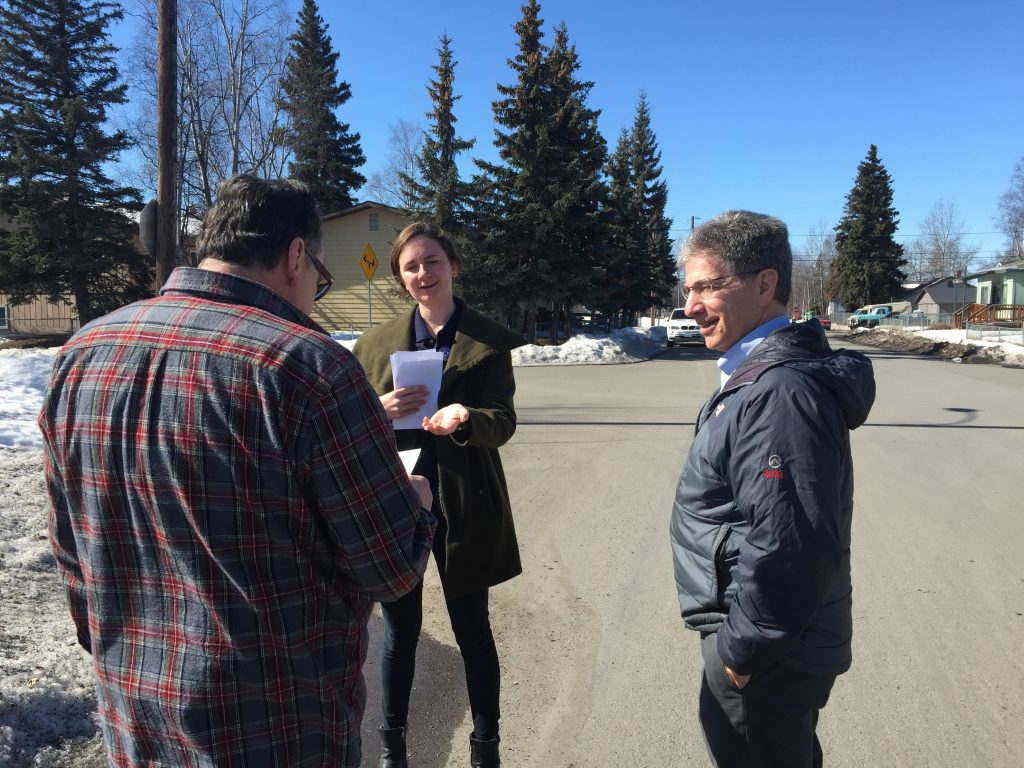 AmeriCorps VISTA Member Catherine Kemp and Mayor Ethan Berkowitz went door-to-door in the Fairview neighborhood. Photo Credit: Municipality of Anchorage
This kind of direct outreach was indeed unusual. The traditional method of engagement between city hall and the community is the system of community councils, most of which had limited capacity and reach. When Anchorage was selected to join the Cities of Service Resilience AmeriCorps program in 2016, the mayor's office received seed funding and two AmeriCorps VISTA members, including Catherine, to support new community engagement initiatives. These resources coupled with our technical assistance gave the municipality new tools to expand citizen engagement beyond the traditional means. Over the past two years, they have brought new voices to the conversation, elevated local leaders, and stimulated engagement by focusing community efforts on an issue important to residents—locally-grown food.
Citizens Promoting Food Security
Around 90% of the municipality's food supply arrives through the Port of Alaska. If a natural disaster were to damage the port infrastructure, the only food in Anchorage would be what remained on grocery store shelves. Beth Verrelli, a longtime resident of Fairview, a diverse, low-income neighborhood, saw an opportunity to expand local food in her community. Not through an ordinary garden, but through edible landscaping—perennial plants such as raspberries, rhubarb, and currants.
"The idea that edible plants can be planted around a community in existing greenspace is a concept that I find to be common sense and also very exciting," said Beth. She proposed the idea to the Fairview Community Council, but they had neither the resources nor the people power to make it happen.
Catherine was the spark to bring Beth's idea to life. First, she made sure the community was on board with an online survey. "Survey response was low, and we wanted more community input. The only place where you're guaranteed to reach people is at their home." Catherine did two rounds of door-to-door outreach with city hall officials, including Mayor Berkowitz, to promote edible landscaping and build excitement for the planting day. She left door hangers throughout the community that included a link to the survey. Response increased by 42%, largely in support of Beth's idea.
Catherine used her position in city hall and her growing recognition in Fairview to catalyze the planting effort. She worked with the Parks and Recreation Department and the Fairview Community Council to recruit 33 neighborhood volunteers. They planted edible shrubs purchased with funds from their Cities of Service grant and encircled new apple trees with chicken wire to keep hungry moose at bay. Some volunteers even organized biweekly maintenance parties to care for the plants throughout the summer.
The newly energized Fairview Community Council planned a second volunteer day to build raised beds in the park. They also partnered with a local nonprofit, the Anchorage Community Land Trust, to apply for a grant what would provide new seating, picnic tables, and barbeque pits.
Elevating Local Leaders
 Not only did Catherine expand the capacity of the Fairview Community Council, she also elevated local leaders like Beth to help them do more for their community. Tamera Flores, a second grade teacher at Fairview Elementary, was teaching her second graders about local food long before the "local" movement reached Anchorage. Every year her students started seedlings in milk cartons and left them to sun in the classroom window. But Miss Flores, as the community knows her, needed more space to give her students the full experience of growing fruits and vegetables.
Catherine and Miss Flores organized local volunteers to build the Fairview School Garden, where students planted potatoes, greens, carrots, and broccoli. Miss Flores and two other Fairview residents cared for the garden over the summer, and she made a big stew for school families to promote the school garden and local food in Fairview when the school year began.
Seeing the success of the school garden, Miss Flores requested a greenhouse, like the one built earlier through the Cities of Service Resilience AmeriCorps program by volunteers at Mountain View Elementary, to give her students a head start on the short Anchorage growing season. Catherine connected with the carpenters union volunteers who had helped with the Mountain View greenhouse. Even though it was September and daylight was waning, an intrepid group of teachers, carpenters, and Fairview residents spent their weekday evenings building the greenhouse, illuminating the site with headlamps as they worked.
To provide other schools with opportunities to participate in the local food movement, Catherine organized the Anchorage School Garden Network, a forum for schools to share information and resources about building, using, and maintaining gardens. She also worked with Ona Brause, Mayor Berkowitz's Chief of Staff and liaison to Cities of Service, to create a food security mini-grant program, modeled after the Cities of Service Love Your Block blueprint. In partnership with the Alaska Food Policy Council, this year the municipality made 17 grants of $1,000 for community projects that replicate school gardens, edible landscaping, and similar projects throughout Anchorage.
Expanding Capacity for Engagement
The new hands-on approach from the mayor and his team allowed the municipality to engage citizens in ways that community councils previously couldn't. As Catherine explained, "The mayor's office is able to see how neighborhood projects fit into the larger food movement. We saw opportunities to replicate the community's ideas and amplify their impact." The additional capacity provided by the VISTA members proved to be indispensable. When her service term ended, Catherine was hired by the mayor's office as a special assistant, and she continues to oversee the food security initiatives in her new role.
Since Cities of Service began our partnership with Anchorage, the Mayor's Office has mobilized volunteers to create or enhance 22 spaces to grow fresh produce. Key to their success was building capacity in the community and nurturing neighborhood initiatives to achieve a shared vision. These efforts are making Anchorage more food secure and showing Anchorage citizens that they have a big role to play in the city's future.