Let's Get Engaged: A Behind the Scenes Look at the Cities of Service 2017 Annual Convening
May 30, 2017
By Cities of Service
L
ast week, Cities of Service brought together over 30 city leaders from across the US and UK for our 2017 Annual Convening in Phoenix, AZ. This hands-on event focused on building the citizen engagement skills of local government practitioners.
Citizens are often an untapped resource in cities, but the power of the people can move mountains when it comes to addressing city challenges. This convening demonstrated different citizen engagement tools being used by cities across the two countries and helped city leaders to think about new ways to invoke the power of the citizenry to solve public problems.
Cities of Service Explores Phoenix by Bus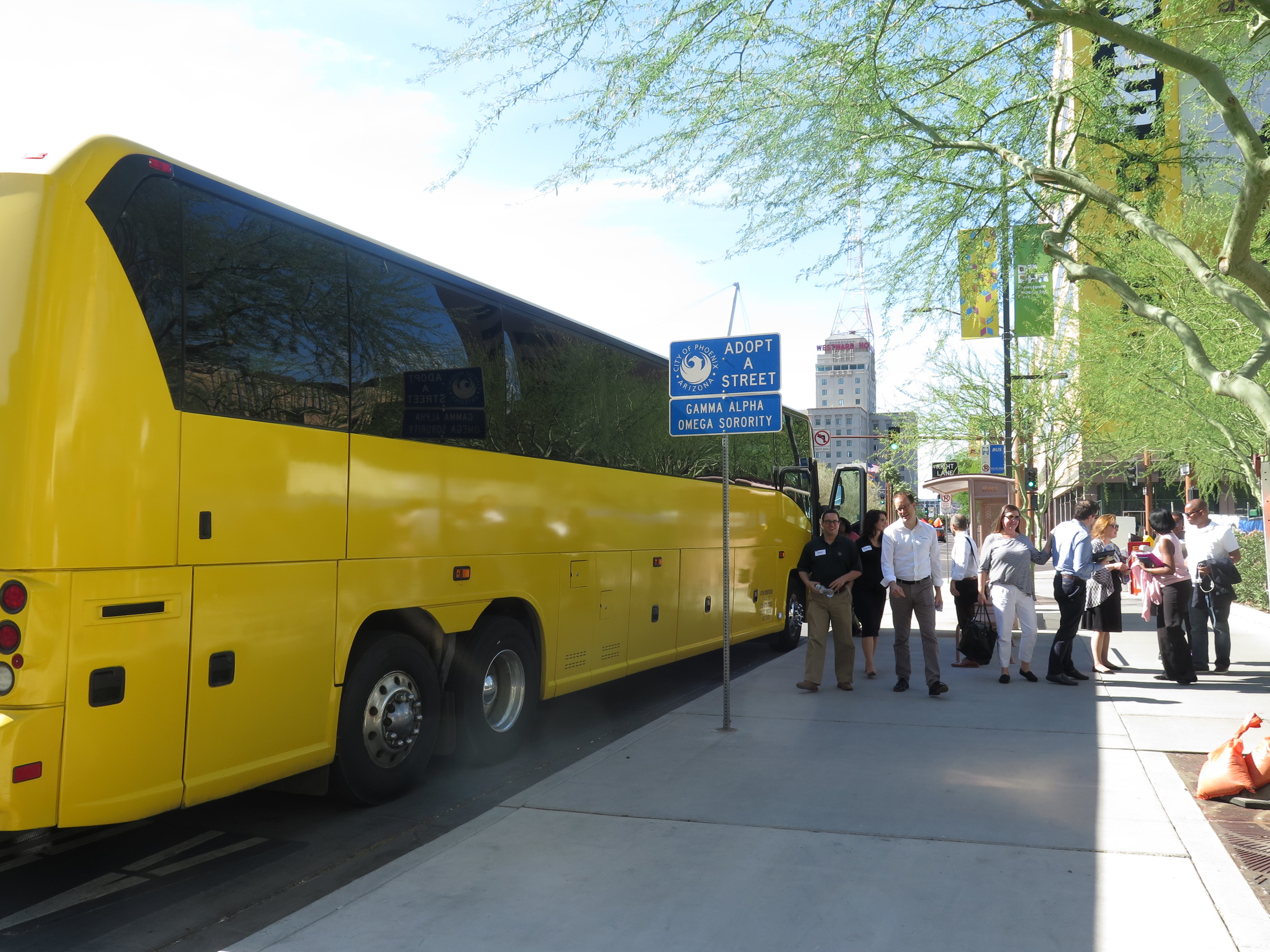 City leaders after taking a bus tour of downtown Phoenix and its greater metropolitan area.
The convening began with a bus tour of Phoenix, the host city for the two-day convening. The city's Chief Service Officer, Michael Hammett, and Director of the Department of Community & Economic Development, Christine MacKay, acted as our tour guides.
The tour gave convening participants a sense of the city, which just recently jumped to the fifth largest in the nation. MacKay described the impressive population growth of Phoenix's metropolitan area — expanding from 3,251,876 people in 2000 to 4,192,887 people in 2010. From July 2015 to July 2016 alone, Phoenix added 32,113 people to its population — that's more than any other city in the US.
We heard about Phoenix's innovative Water Resource Plan which, despite the population growth and a prolonged dry period, has made it possible for the city to avoid placing water restrictions on its citizens. MacKay described how, with this plan in place, the city is prepared for the next 50 years and beyond — population growth included. We also visited the world famous Mayo Clinic, just one of the many stellar science and technology establishments in the area. Phoenix's Mayo Clinic offers advanced cancer treatments, including proton beam therapy, which targets tumors while leaving nearby tissue unharmed.
Mayor Greg Stanton Welcomes Us to the Valley of the Sun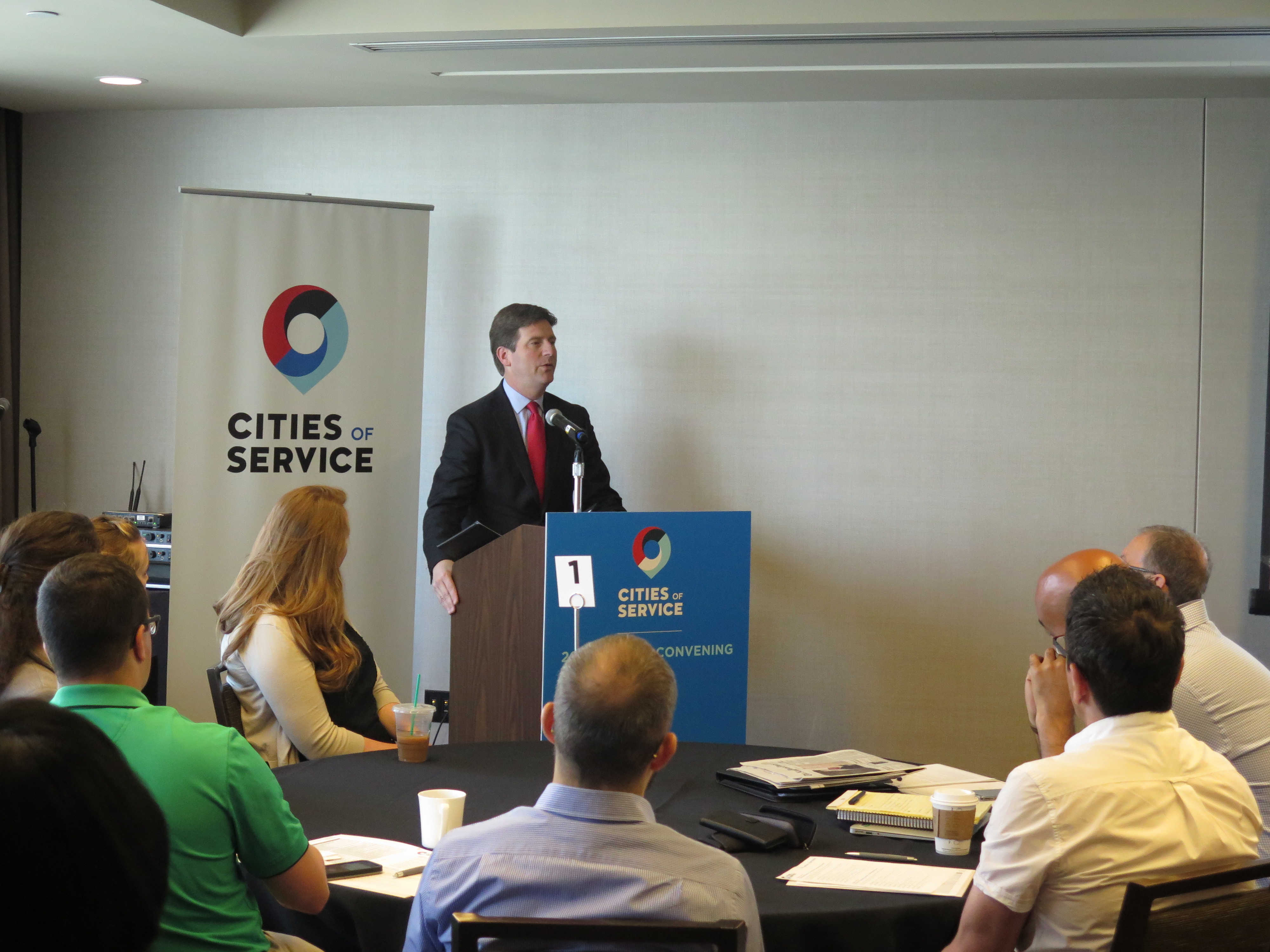 Mayor Greg Stanton speaks to Cities of Service 2017 Annual Convening attendees.
Mayor Greg Stanton joined us to kick off the convening's sessions. He spoke about the fast growing city and it's "why not?" culture that helps it continue to innovate and transform. He described the city's science leadership, its expanding public transportation system, and its welcoming environment for refugees.
One of the major ingredients in the city's secret sauce? Working with its citizens to solve Phoenix's challenges. Mayor Stanton described how working with Cities of Service as a founding member of our coalition has fueled the city's ability to create a trusting relationship between its leadership and its residents. This bond, and the many city programs that now rely on citizen engagement — from Love Your Block to Resilience AmeriCorps to the city's recent establishment of a Chief Service Officer — all make Phoenix a special place to call home.
Graphic Facilitation Engages Visual Learners
Throughout the event, Graphic Illustrator Janine Underhill illustrated the findings and lessons shared during the sessions. Her artwork helped participants see the impact of their words and their work, as well as draw connections between different ideas and their implementations. Participants also used templates prepared by Underhill and Cities of Service staff to develop and illustrate solutions to the challenges they are facing with their programs.
Hands-On Sessions Facilitate Skill Building
Convening participants had many opportunities to learn from their fellow city leaders, share their own wins and challenges, and speak out about the experiences they are having back in their home cities. Cities of Service used a variety of session and presentation formats to create an environment that spurred critical thinking about citizen engagement.
Concentric Circles: In this session format, a circle of chairs surrounds four chairs in the middle. The four chairs offer a chance for conversation about the selected topic, and participants in the outer circle rotate in and out of the four center chairs when they have something to add to the conversation.
Focusing on "The New Normal" in government — where distrust between citizens and their leaders runs rampant — participants in this session talked about how their cities are operating in this new environment.
Pecha Kucha: This presentation format shows a selection of images for 20 seconds each while the presenter describes the images and tells their story.
Focusing on the topic of resistance, presenters Kathy Nyland, Director of the Department of Neighborhoods in the City of Seattle, and Andi Crawford, Neighborhood Resource Coordinator for the City of Lansing, talked about how they leveraged resistance to create new government systems that support and sustain citizen engagement. Khanh Russo, Director of Strategic Partnerships for City of San José Mayor Sam Liccardo, also used this presentation format to tell the story of how San José recently generated interest and buy-in from the Mayor to create a Chief Service Officer position.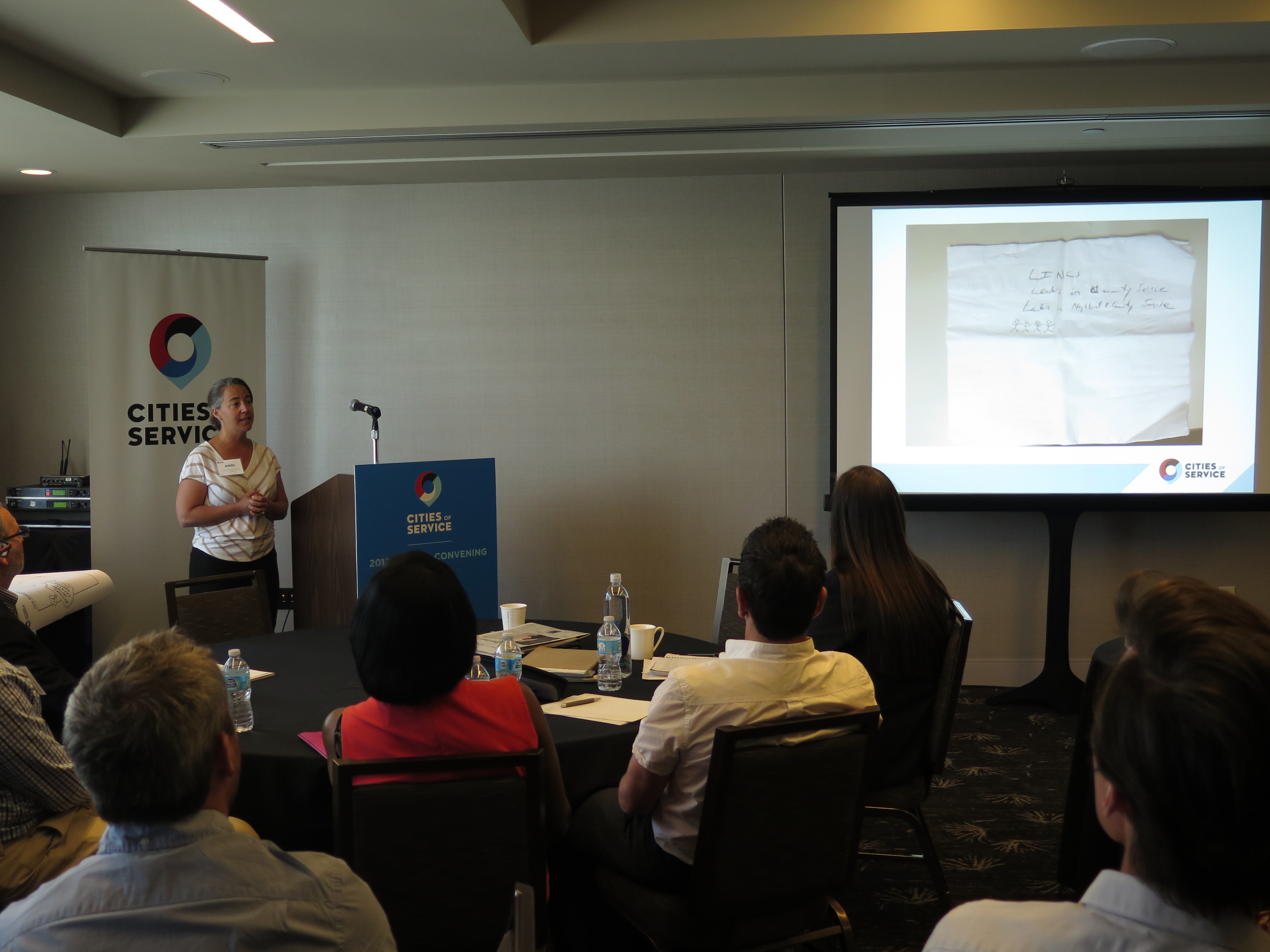 During her Pecha Kucha presentation, Andi Crawford from Lansing, MI describes a napkin scribbled with notes by Lansing Mayor Virg Bernero, taken as they met to rethink the neighborhood engagement strategy of the city.
World Café: This small group discussion format uses rounds of 15-minute discussions to promote collaboration and idea sharing. Each table has a host who stays put throughout the session, but all other participants switch tables at the end of each 15-minute round, eventually making their way around the whole room — or around the "world." The session ends with a debrief that helps participants uncover themes.
This café focused on a selection of questions — Why is citizen engagement important in your city? When do you talk to/engage with "the community" and what does that interaction look like? How can engagement be dangerous or risky for a city?
Pop-Ups: This presentation format relies on a special presentation from a selected speaker, using slides, videos, and other accompanying storytelling tools.
The convening included several pop-up presentations. Jerome Smith, Boston Mayor Martin J. Walsh's Cabinet Chief of Civic Engagement and Director of the Mayor's Office of Neighborhood Services, spoke about how they use SPARK Boston to engage with and get buy-in from millennials in the city. Vicky Kovari talked about how she has used her role as Chief Service Officer for the City of Detroit to meet the Mayor's goal of keeping people in their homes and increasing the city's population. Grant Ervin, Chief Resilience Officer for the City of Pittsburgh, talked about the development of Pittsburgh's Resilience Strategy and how citizens play a core role in strengthening the city's resilience.
Participants Learn Lessons from Across the Pond
The convening concluded with a special session featuring five city leaders from our UK cities. The speakers shared lessons about citizen engagement and volunteering from London, York, Bristol, Plymouth, and Kirklees. Their programs are addressing a wide range of city challenges, from loneliness among their elderly populations, to energy use in homes, to nutrition and local food production. Follow @CitiesServiceUK to keep up with their work.