People and Partners Transform Urban Spaces in Richmond
By Ellie Fox, Cities of Service VISTA Leader, Love Your Block
With Love Your Block, Cities of Service and the City of Richmond, California, have helped citizens transform urban spaces and revitalize their communities.
Located along a Safe Route to School path in North Richmond, California, Rancho Market & Deli hasn't always been a safe place for students and neighbors to gather. Vandalism and violence plagued the corner store for many years. Despite the efforts of store owner Lucky Braimah to keep the store family-friendly, including making it the only alcohol-free store in the area, the market was badly in need of cleaning and new paint to help improve the neighborhood's perception of the space.
Love Your Block, a nationwide Cities of Service initiative, changed that.
Last year, the market underwent a transformation as residents, businesses, and local government worked together to restore it. Beginning in October 2017 with an event to paint the building's exterior, the project grew to include a mural installation.
The city worked with local artist Richard Muro Salazar to obtain funding from Richmond Arts & Culture Commission. Salazar and a team of apprentices to memorialize the rich culture and history of the neighborhood. The market is now a vibrant gathering space for students, shoppers, and neighbors alike.
The City of Richmond, with Cities of Service funding and two AmeriCorps VISTA members, launched Love Your Block in the fall of 2015 to assist city residents with revitalization projects. Since the program's inception, the city has provided $25,000 in mini-grant funding to 31 community-improvement projects across Richmond.
In this process, the city has engaged over 39,000 residents and leveraged an additional $25,000 in in-kind resources, including paint and supplies from Kelly-Moore Paints and items from The Home Depot to maintain and enhance neighborhood spaces.
Building on Success
Richmond strategically selected North Richmond and Parchester Village as Love Your Block neighborhoods. Both previous grantees, the city's Love Your Block team thought critically on how to build upon these groups' earlier successes and create robust, lasting projects.
With technical assistance, expert advice, and training from Cities of Service over the past three years, the AmeriCorps VISTA members, city staff, and residents have become adept at bringing stakeholders to the table to ensure buy-in from the community.
In Parchester, community members scheduled two fieldwork cleanups to train teenagers as Love Your Block ambassadors. To complement the fieldwork, they invited the Parchester Community Center, SeQuential Biodiesel Fuel, and Republic Services to conduct educational workshops on volunteerism, reusable energy, and recycling.
"We don't have all the resources," said Ivonne Malave, a trusted community voice and the lead for the Parchester project on why she chooses collaboration as her engagement strategy. "We help each other out—that's community building."
The Fabric of Unity
Over the course of the 3-year grant period, Cities of Service held regular calls to advise city staff on best practices for engaging citizens and partners and helped them troubleshoot as challenges arose. As a result, the Love Your Block team invited North Richmond residents to deliberate on what they wanted to see represented on the mural for Rancho Market. It became evident that residents acutely desired to work together to see a resurgence of the rich cultural heritage of their community.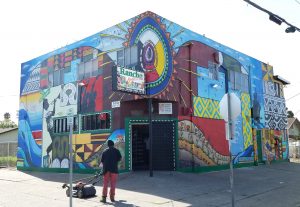 In May 2018, seven months after the Rancho Market & Deli project began, the mural was installed by resident volunteers of all ages and the community was eager to celebrate. Over 100 neighbors attended the block party celebration which featured music and art as homage to the urban Renaissance that came from North Richmond generations before. The "Fabric of Unity," pictured above, now serves as a bright spot for the city, reminding residents that North Richmond can again reach its potential.
Love Your Block works best when residents, volunteers, and city leadership are committed to building trust, between government and citizens. Leaders inside and outside city hall understand that creating more vibrant, safe, and inclusive communities is one of our greatest responsibilities.
"One of the highlights of my time here in Richmond has been seeing the increased volunteerism and community engagement brought about through our partnership with Cities of Service," said City Manager Bill Lindsay.
Dedicated city staff members like Rochelle Monk, Community Services Director, were key to the success of the program and Cities of Service AmeriCorps VISTA members Stephanie Ny and Erika Ito have worked tirelessly to reach out to citizens, business, and local organizations and embed this initiative into the fabric of Richmond's communities.
Richmond Love Your Block has brought neighbors together to reclaim their public spaces and affirmed that community engagement can be an effective agent for change.
"We are who we've been waiting for," says Tania Pulido, Richmond resident and Community Outreach Service Coordinator for Community Housing Development Corporation. "Real change moves very slowly. It is always very important to celebrate those moments of victory because we're in it for the long haul."