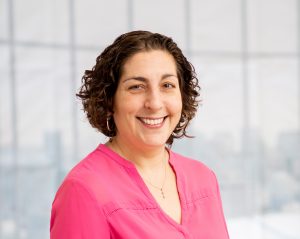 Sara Mogulescu is Executive Vice President of The Volcker Alliance and a member of the Engaged Cities Award review committee. As part of an ongoing series, we asked her a few questions about the award and her own work.
The Engaged Cities Award aims to find and elevate some of the most successful and diverse ways that city leaders are actively engaging their citizens to solve critical public problems. Why do you think a recognition program like this is important?
We need to know what excellence looks like to be able to work effectively toward achieving it.  The Engaged Cities Award helps establish the practice bar.
What did you find most surprising or interesting when you reviewed applications last year?
I was impressed by the range of issues being tackled in collaboration with citizens, and the enormously positive applicant response. Cities all over the world wanted to be in this process, at this table, and helping to drive this important conversation about the power of citizen engagement.
We need to know what excellence looks like to be able to work effectively toward achieving it.
What are you working on now that would be particularly interesting to people who care about helping citizens and cities collaborate to solve public problems?
The Volcker Alliance has launched the Government-to-University Initiative (G2U), with the aim of advancing deeper partnerships between government and universities in a region. We recently selected Kansas City, Missouri, and Austin, Texas, as our inaugural sites. We believe the G2U initiative is uniquely positioned to help cultivate a vital talent pipeline into the public sector workforce, ensure that the workforce possesses the necessary skills to meet public sector challenges, and provide answers to government's top-priority research questions. To do it effectively, we are going to need to build vital, engaged G2U coalitions in every site.