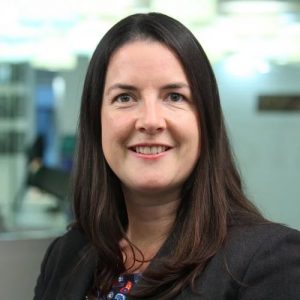 Vicki Sellick is Executive Director of Programmes at Nesta and a member of the Engaged Cities Award review committee. As part of an ongoing series, we asked her a few questions about the award and her own work.
What interests you about reviewing applications for the Engaged Cities Award?
I have the privilege of working for an organization called Nesta, which is a U.K. foundation charged with finding bold ideas to change lives. Our brief is to find and support innovations in a variety of fields that will make a difference in people's lives and to give innovators some cover whilst they try something new.
At Nesta we are ever curious about where new ideas are happening–things we should be supporting ourselves, things that we should be copying and importing back to the U.K–so I have really enjoyed reviewing applications for the Engaged Cities Award, shining a light on places where public servants and citizens are working together.
One of the results we have seen in our work with cities is that those who successfully engage their citizens to solve problems also build trust with their citizenry. How can cities be or continue to be innovative while collaborating with citizens and building trust?
When city leaders are honest about what they can and can't do alone, citizens really respond to that. That really does build trust.
The political environment both in the U.K. and in the U.S. is pretty toxic at the moment. We seem to be pulling away from each other rather than leaning in to one another. We're seeing bold leadership from some cities who see a different, more united future. Cities who are saying, "This is government's role to play, and you as a citizen have a different role to play. You have different capacities, different abilities, different insights that we want to hear."
When city leaders are honest about what they can and can't do alone, citizens really respond to that. That really does build trust in our decision makers, our lawmakers, our political institutions. We end up with better trust between community groups themselves. All of that feels quite important in this particular season of geopolitics.
As you know, Cities of Service has had a relationship with Nesta for a while, including funding chief service officers in the U.K. What impact have you seen from that work in the U.K.?
We've been delighted to import the Cities of Service model into the U.K. and through our partnership over the last five years we've backed seven different cities to adopt the model. We did that because we think public services should be more open to involving communities in a structured way. Despite the fact that local government looks a little different in the U.K., it has worked well.
Bold ideas change lives. And Cities of Service is a bold idea. When you get together and say, "How are we going to feed the poorest communities in our town? This isn't a problem just for public services, this is a problem for everybody." You see pretty pioneering solutions arise. The chief service officer in Plymouth, U.K. has lots of initiatives that are led by the community and local community leaders, not just a top down public services response. It's the sort of approach that's at the heart of the Engaged Cities Award.
We're seeing bold leadership from some cities who see a different, more united future.
What are you working on now that would be interesting to people who care about helping citizens and cities collaborate to solve public problems?
We've done quite a lot of work with first responders, including backing an app in the U.K. called GoodSAM, which alerts nearby qualified citizens trained in first aid alongside an ambulance service when someone calls 999 [the emergency number in the U.K.] because someone's heart has stopped beating. The volunteer gets there first and starts heart compressions whilst the ambulance is on its way and, as a result, many more people survive. It's a brilliant example of how citizen power and public services can work together to deliver better outcomes – in this case lives saved!
I really like that sort of work. Citizens want to contribute but they don't always know how. It gives people a very easy vehicle to be asked for help.  
We're also doing a lot of work on how citizens can get more engaged in the decision making in their cities. In the U.K. there is a relatively low voter turnout for local council elections, so Nesta is backing different experiments to get more people to contribute to debates online or crowdsource ideas for how to solve a problem. Doing so engages more citizens but it also lifts the lid on some of the processes public servants go through to make decisions for the greater good. Our public servants are not always held up in high regard – I'm guessing it's the same in the U.S. – people tend to think of them as paper pushers. But at Nesta we see passionate, dedicated public servants who are desperately trying to do the best with the resources they have, but also who want to innovate and try new things.