Scenes from our 2019 Engaged Cities Award Finalist Site Visits
Last month, Cities of Service staff spent a few weeks traveling from city to city to learn more about the 10 Engaged Cities Award finalists. We met with dedicated and hardworking city staff who are engaging city residents to improve their cities. We spoke to mayors and other city leaders who believe that by working together with citizens they can make their cities better places to live and work. And we spoke to residents – passionate, engaged people who care deeply about their communities and are contributing their time and expertise to meet today's challenges. 
In Atlanta, Michelle Wiseman from the Office of Resilience explains the role of composting at a farm created through the city's AgLanta "Grows-A-Lot" program. The program empowers Atlanta residents and city staff to transform vacant lots into urban farms, which help increase the availability of fresh produce in vulnerable communities.
Today, the portion of the Atlanta's population in low-income areas without access to healthy food has dropped to 36%.
With help from city staff, Aurora residents Sonia, Tesa, and Angela created the Community Support Team in their neighborhood to better access city services, connect with city officials and police officers, and make their communities safer, better places to live. This was part of Aurora's initiative to increase the number of neighborhood groups across the city, in which city staff provided starter kits and other support to residents.
Aurora resident George shakes the hand of a Community Oriented Police Officer at a Neighborhood Connection event. George worked with city staff to organize the event, the first on his street where many neighbors had never met in person.
Cities of Service staff met with Aurora Police Chief Kristen Ziman (center), Deputy Chief Keefe Jackson (left), Commander Jack Fitchel (right) and other commanders to discuss how the city police have worked with the city to build trust with residents and make Aurora a safer city.
Cities of Service staff met with Bogotá Mayor Enrique Peñalosa and city staff, who have all worked hard to improve the complaint system for residents, increase accountability, and ensure that community needs are met. They did this working with resident groups and incorporating citizen feedback as they went.
Undersecretary of Citizen Service Fernando José Estupiñán led the city's effort to ensure that all points of contact with the city, including requests made through the website and app, in person at the SuperCade where residents can easily access services (pictured above), and on the phone were part of a system that could track requests and make sure that citizens receive the services they need.
Residents like Martha Quintero and Geomacle Torres use the city's improved website and new app, SuperCade Virtual, to request services like filling a pothole or to get permits. Use of the app has increased exponentially since it was released in January and wait times for services have decreased.
Chicago resident Anna Maria Leon speaks with other community members who have helped the city design new green infrastructure that is reducing local flooding while also improving their neighborhoods. Soon they will take over maintenance of the new gardens and community spaces.
Chicago city staff estimates the new infrastructure can hold 500,000 gallons of stormwater, reducing street flooding, a recurring problem in the area.
Cities of Service Deputy Director Mauricio with Green Projects Administrator Michael Berkshire (left) and Edwin Muldrow (center), a local business owner, who will care for new green infrastructure near his pharmacy. The new garden and gathering area has helped Muldrow acquire a Neighborhood Improvement Fund grant to further develop his business.
Lawrence Miller is one of hundreds of residents in Flint, Michigan, who participates in the city's Neighborhood Inventories. Community groups collect information about every property in the city and update the Flint Property Portal, where the data can be easily viewed and analyzed by other residents, city staff, and partner organizations to improve neighborhoods and make decisions about policy, city planning, and much more.
Attorney Torchio Feaster (right) explains how is office, the Administrative Hearings Bureau, is one of many city departments that uses the Flint Property Portal on a daily basis. They work with residents to help resolve code enforcement violations. Natalie Pruett (left), an urban strategist, helped the city develop the portal.
Lead planner for Flint, Adam Moore, helps residents make an assessment of their neighborhoods using the Flint Property Portal. With support form the city, residents use this information to plan and implement improvements, such as this memorial garden on a formerly vacant lot.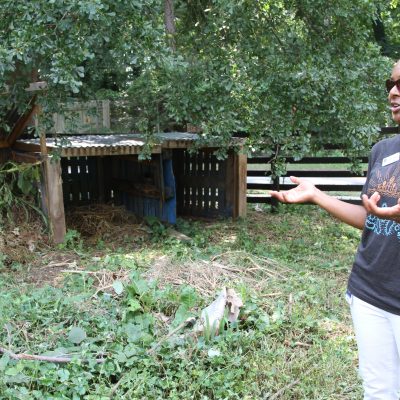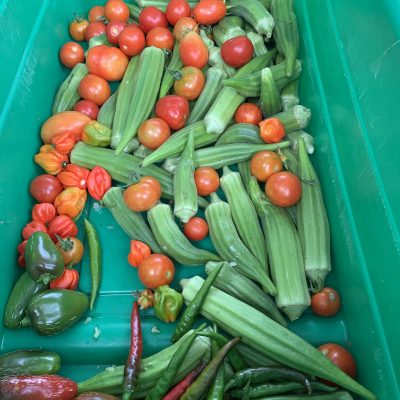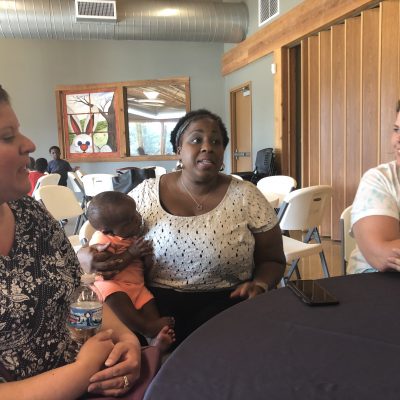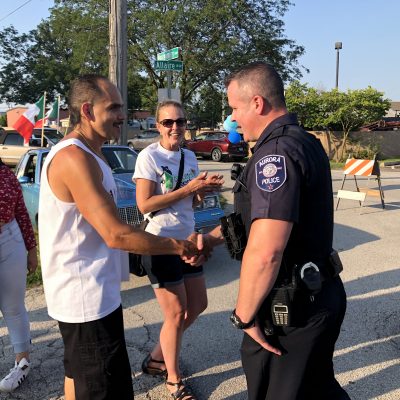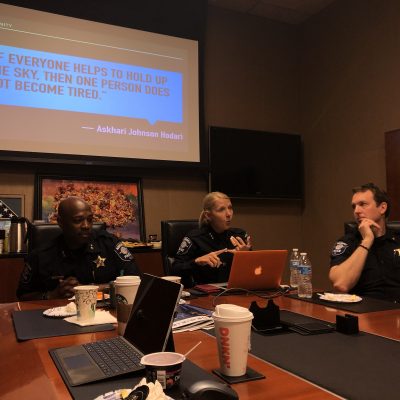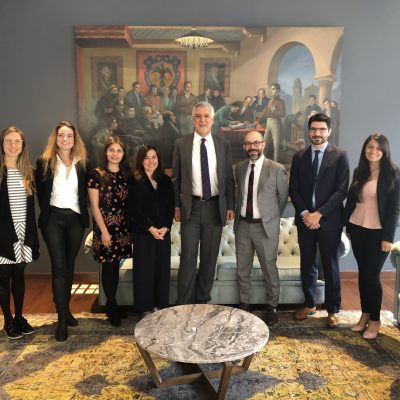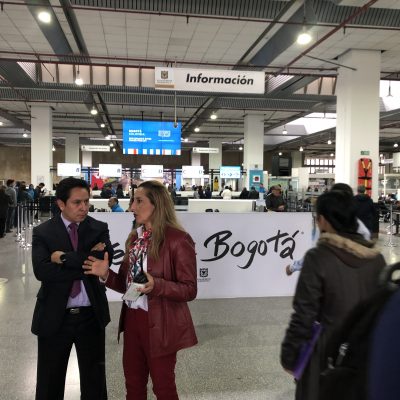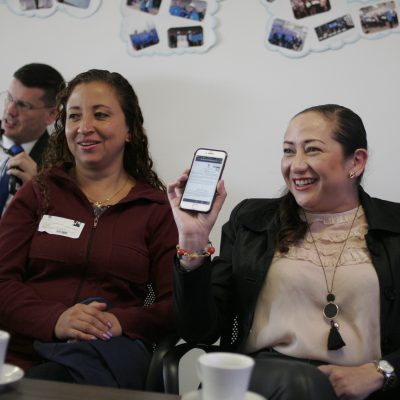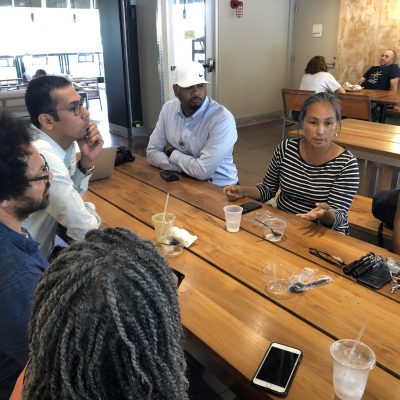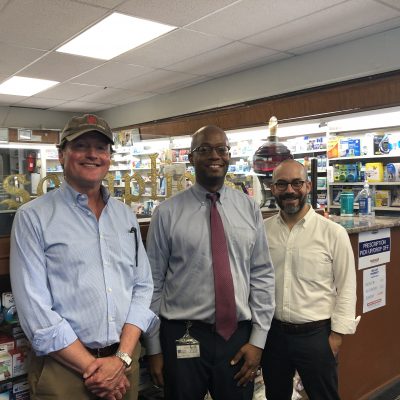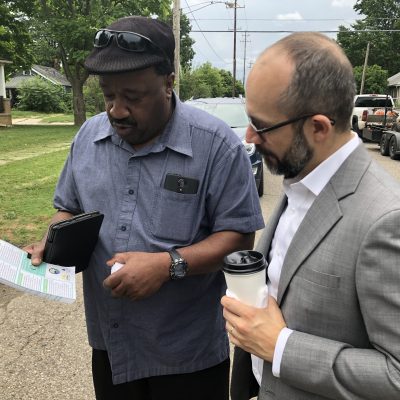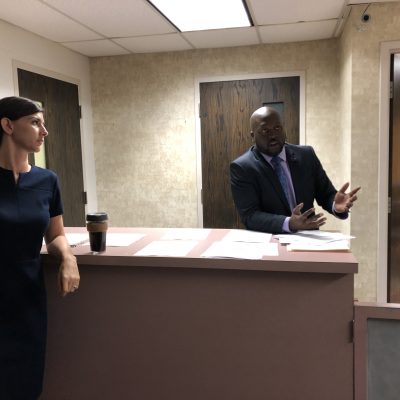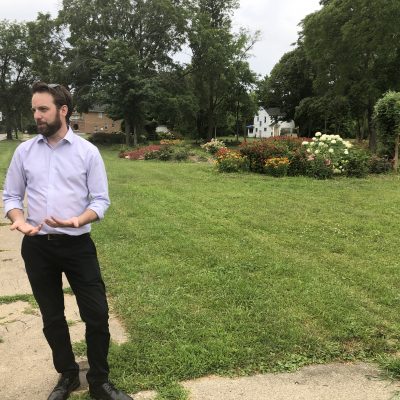 While we learned a lot from the applications for the award, we've found that the best way to put all the pieces together and understand how these solutions really work is to see them in action on the ground, where we can ask questions and see the impact firsthand. We consider all 10 finalists to be award worthy, and we want to tell their stories so other cities can learn from and replicate them in their own communities.
This year, we were delighted to see how strong the engagement and impact was and impressed with the dedicated city leaders, staff, and community members we met. Choosing a few that top the list of 10 will not be an easy decision. 
As we prepare to announce the winners at CityLab in October, we'll be sharing stories and more photos to illustrate the impact of these projects, as well as other materials to help staff in other cities learn from and use the solutions, so look for more to come soon. Until then, you can learn more about the what we were up to during our ten site visits in the photo galleries. 
Lakewood created the Sustainable Neighborhoods program to better support the residents who wanted to make their communities more sustainable. Community groups earn credits for successfully completed initiatives so they can be certified as a Sustainable Neighborhood. Eight city neighborhoods have participated in more than 400 projects.
Lakewood resident Dana Gutwein became a city council member after getting involved in her community through the Sustainable Neighborhoods program.
Through the Sustainable Neighborhoods program, community groups have developed sustainability initiatives like Bee Safe, which makes gardens, yards, and other green spaces safe for bees and other pollinators.
Cities of Service Executive Director Myung J. Lee (right) and Communications Director Karen Dahl (left) visited the office of London Mayor Sadiq Khan to learn more about Crowdfund London, which invites citizens to propose solutions to local challenges and show their support for ideas that improve the social good by making a financial contribution.
Through Crowdfund London, the city pledges up to £50,000 for qualifying projects, and staff (pictured) provide extensive support to help with design, planning, and implementation of community projects.
Rural and Urban Synthesis Society is building a community center, which will be a hub for affordable housing built by residents. It's one of 100 projects backed by Crowdfund London.
Orlando Director of Innovation Matt Broffman (left) and the Digital Services Team work closely with staff, including Chief Service Officer Marcia Goodwin (right), to improve digital services and bring resident-centered design into city hall.
Orlando city staff like Aquatics Supervisor Denise Moore (center) and Officer Kevlon Kirkpatrick (left) have participated in the city's Digital Services Academy, where they learned about human-centered design and improved online services and forms.
Residents like Murissa Edwards (right) say that the new online services have improved their perception of the city and made them more likely to report problems and make requests. Anna Higgins (left) is a member of the Digital Services Team and works closely with city staff and residents on a number of projects.
A new playground in Plymouth is just one of the projects supported by Crowdfund Plymouth. Through the program, community members and local organizations propose projects to improve their neighborhoods, and residents support promising ideas with monetary donations. If the project receives community support, the city makes a pledge from a fund designated for community projects.
Moments Cafe and Hub, which received funding from Crowdfund Plymouth, is a social space that supports community members with disabilities, including those with dementia.
Toby G is a Plymouth resident and co-founder of Street Factory CIC, a hip hop focused community organization that he runs with his wife, Jo. The pair was able to secure funding through Crowdfund Plymouth to create a community venue, which will help the organization strengthen community cohesion through workshops, theater, and dance.
Through Civic Bridge, the Office of Civic Innovation in San Francisco collaborates with private sector volunteers to address challenges like homelessness, affordable housing, and climate change. Volunteers contribute approximately 20% of their time over a 16-week period and city staff identify city challenges, match volunteers with city teams, scope projects, and coach teams on their work.
San Francisco city staff scope projects and create relationships with private-sector volunteers, corporations, and partners to ensure that projects are successfully implemented and have a real impact.
Successful projects include DAHLIA, a new affordable housing portal designed by a team of Google employees that eliminates the need for applicants to wait in line with paper applications at each individual affordable housing development for the chance of renting an apartment. An estimated 85% of all affordable housing rental applications have come through the new online application system (DAHLIA) since launch.