Seven American Cities Engage Citizens to Help Prepare for Disasters
April 11, 2017
By Cities of Service
The Cities of Service Prepared Together program supports seven cities — four in California's Bay Area and three in New Jersey — as they engage citizen volunteers in initiatives that better prepare their cities for disasters. Using the Cities of Service Impact Volunteering model, Prepared Together cities will not only strengthen their resilience to disaster, but will do so by involving citizens in diagnosing the problems as well as developing and implementing the solutions. Local governments and citizens will collaborate and build and strengthen relationships that will help them prepare for, prevent, and respond to disasters.
Thanks to generous support from the Walmart Foundation, each city will receive $25,000. They will also receive high-touch consulting services, programmatic support, and access to a robust network of more than 225 cities that are part of the Cities of Service coalition. Each Prepared Together city is recruiting two AmeriCorps VISTA members to lead this important work. VISTAs will serve full-time for one year in city hall, work alongside city officials and staff to engage citizen volunteers, and build and implement specific disaster preparedness initiatives.
Following are more detailed descriptions of the Cities of Service Prepared Together Impact Volunteering Initiatives in Daly City, Oakland, San Jose, and San Leandro, California and Hoboken, Jersey City, and Newark, New Jersey.
The lack of a robust root network, combined with drought-stricken soil, makes Daly City, California vulnerable to localized flooding, landslides, and accelerated cliff erosion. Citizen volunteers will grow and maintain the urban canopy by planting drought-tolerant tree species and replacing impervious surfaces with rain gardens.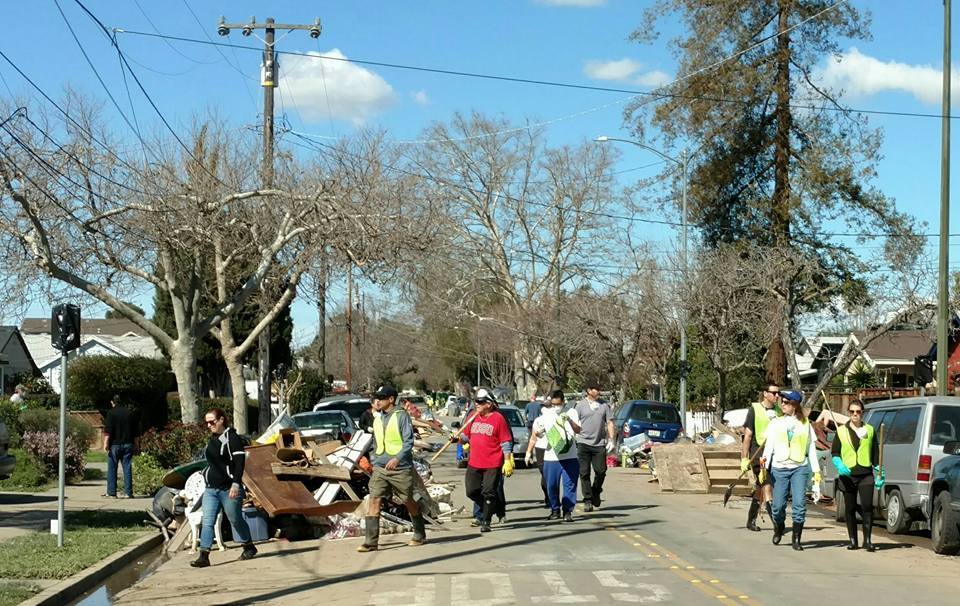 Citizen volunteers on a cleanup day in San José, California.
Low-income households in Oakland, California are more likely to be located in areas at greater risk of sea level rise and seismic instability — and more vulnerable during a disaster. Through the city's new Civic Design Lab (CDL), citizen volunteers and city staff will work together to identify preparedness challenges and create solutions to address them.
In early 2017, San Leandro, California experienced record levels of rainfall, which caused significant damage. To prepare for extreme weather events, the city launched a Community Emergency Response Team (CERT). CERT members will be trained and then engage citizen volunteers to work on flood control, hazardous debris removal, and fire risk minimization.
In February 2017, in part due to drought stricken soil and clogged waterways, San Jose, California experienced historic flooding, causing $73 million in property damage. Citizen volunteers will plant and care for trees and rain gardens, clean up waterways, and restore river banks to increase green infrastructure and mitigate the impact of future flooding.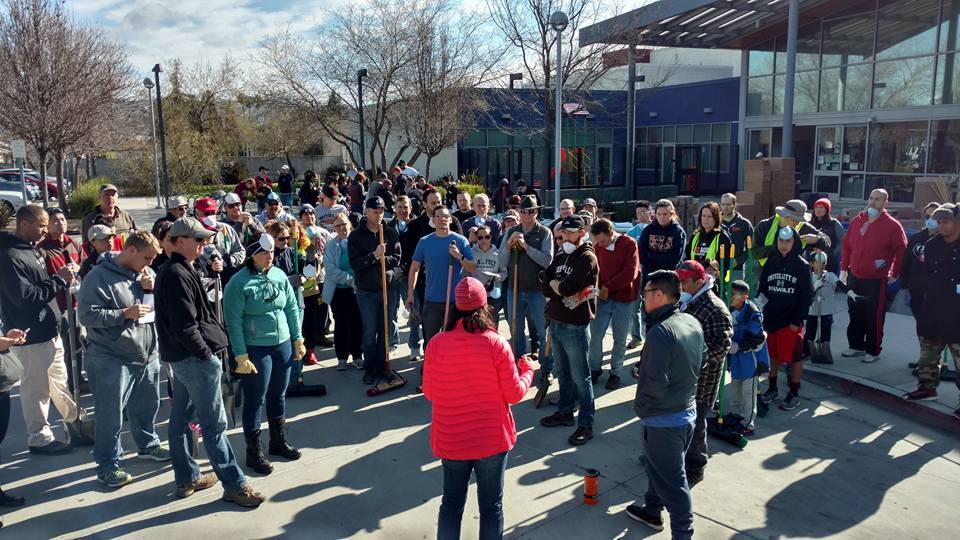 Citizen volunteers on a cleanup day in San José, California.
During intense rain events, Hoboken, New Jersey suffers from flooding, sewage backups, and combined sewage overflow (CSO) events. Citizen volunteers will help plant and support the maintenance of street trees and rain gardens in strategic locations and help maintain previously completed green infrastructure installations throughout the city. Volunteers will be eligible for green jobs training through Rutgers University's cooperative extension program.
Tree canopy in Jersey City, New Jersey intercepts over 155 million gallons of stormwater per year, which saves taxpayers over $1 million in damage. This makes the preservation and expansion of tree canopy an important component of the city's disaster mitigation strategy. Volunteers will identify and map flood sensitive areas, install rain gardens and rain barrels, and more.
Because the majority of Newark, New Jersey's ground cover is made of impervious surfaces, storm water can quickly overwhelm the sewer infrastructure and cause flooding. Lack of trees and green space results in urban heat island effect, further endangering residents. Citizen volunteers will help install and maintain trees, rain barrels, and cool roofs.
 . . .
If you or anyone you know is interested in serving as a Prepared Together AmeriCorps VISTA member in a Prepared Together city, please contact Rose Rodriguez at rose@citiesofservice.jhu.edu. You can find the position description by visiting the My AmeriCorps portal here and searching "Prepared Together" in the program name field.