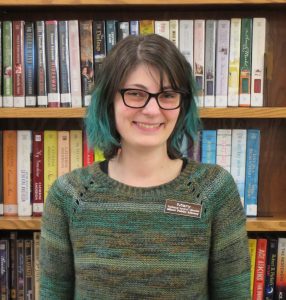 Tool lending libraries may be popping up in cities around the country, but they are not new, says Minot resident Mary P. Wheeler. "Libraries have been doing this kind of thing for years and years," she said. "Libraries have always been interested in meeting community needs."
The tool library in Minot, North Dakota, is new, however, and Mary was instrumental in making it happen. A native North Dakotan, she is technical services librarian in charge of cataloguing all the items at the library, from books to wrenches and wheelbarrows.
Minot was devastated by flooding along the Souris River in 2011. Many residents didn't own the tools they needed to repair their homes. To ensure that residents had the equipment they needed in the future, Cities of Service AmeriCorps VISTA members, city staff, and residents created the tool lending library as part of its Cities of Service Resilience AmeriCorps program.
The tool lending library now contains more than two hundred tools, ranging from garden clippers and hammers to a six foot ladder and a carpet shampooer. Some are kept in a cabinet in the library and others at a nearby storage space.
Mary has had to learn a lot about tools to catalogue every item, which wasn't easy. But it's been a good learning experience and she feels it helps the community. "In my own life I've been in a place where I didn't have basic tools," she said, "and I didn't have a lot of people in my life I could have borrowed tools from." With the support of Cities of Service and the collaboration between the library, citizens, and the city, this isn't a problem Minot residents will face anymore.
"I think libraries are really important to the community," she added. "We're not just a storage facility for books. We're a community gathering place, we're a center for learning and creating, and we have a lot to offer the community."