Volunteers in North Dakota Build Flood Resilience With Bikes
June 8, 2017
By Andrianna Betts, Cities of Service Resilience AmeriCorps Member
This story originally appeared on Zilient.org and was written by Andrianna Betts, Cities of Service Resilience AmeriCorps VISTA Member serving in Minot, North Dakota's city hall.
T
he devastation caused by the 2011 floods in the North Dakotan city of Minot in the United States, damaged more than 4,000 homes, it also eroded the relationship between residents and their local river.
The Souris river, commonly referred to as the mouse river, a nod to its French name which translated means "mouse," the Souris has always been an integral part of city life. The river provided both a source of entertainment and transportation. Today, concerns regarding flood control have contributed to the negative perception of the Souris. The vibrant river culture of the past is in need of restoration and a community group called Friends of the Souris River (FSR) is contributing to the revitalization effort.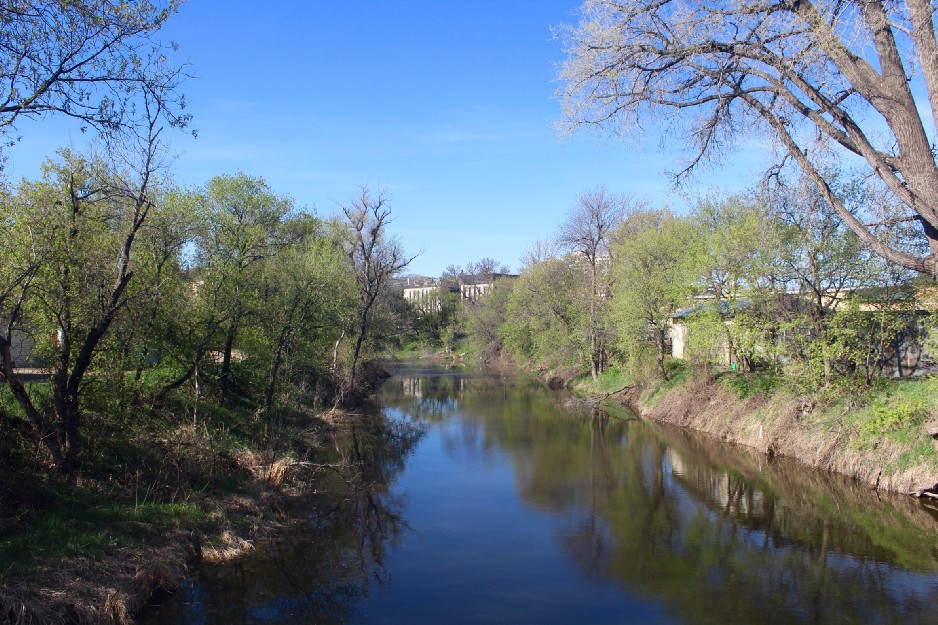 The Souris River, commonly referred to as the mouse river, in Minot, North Dakota, United States. Photo Credit: Andrianna Betts/City of Minot
Resilience AmeriCorps Members Use Bike Ride To Engage New Citizens in River Culture
Last year, supported by Cities of Service, two Resilience AmeriCorps VISTA members pledged to strengthen resilience in the city of Minot. These AmeriCorps members, Nancy Hoover Simpson and Mia Dillard, initiated a partnership with FSR and together they led four river clean-ups. Working alongside citizen volunteers they collected over 14 tons of waste in total.
Now, as the 2017 Cities of Service Resilience AmeriCorps class, we are continuing the tradition of collaborating with FSR and organized our first event of the year in April on Earth Day.
Entitled "Ride the River," the fun and informative bike ride provided residents with a visual tour of the changes scheduled to take place under the city's flood protection plan. More than forty participants listened to five speakers along the route that began in the Dakota Bark Park and ended in Roosevelt Park.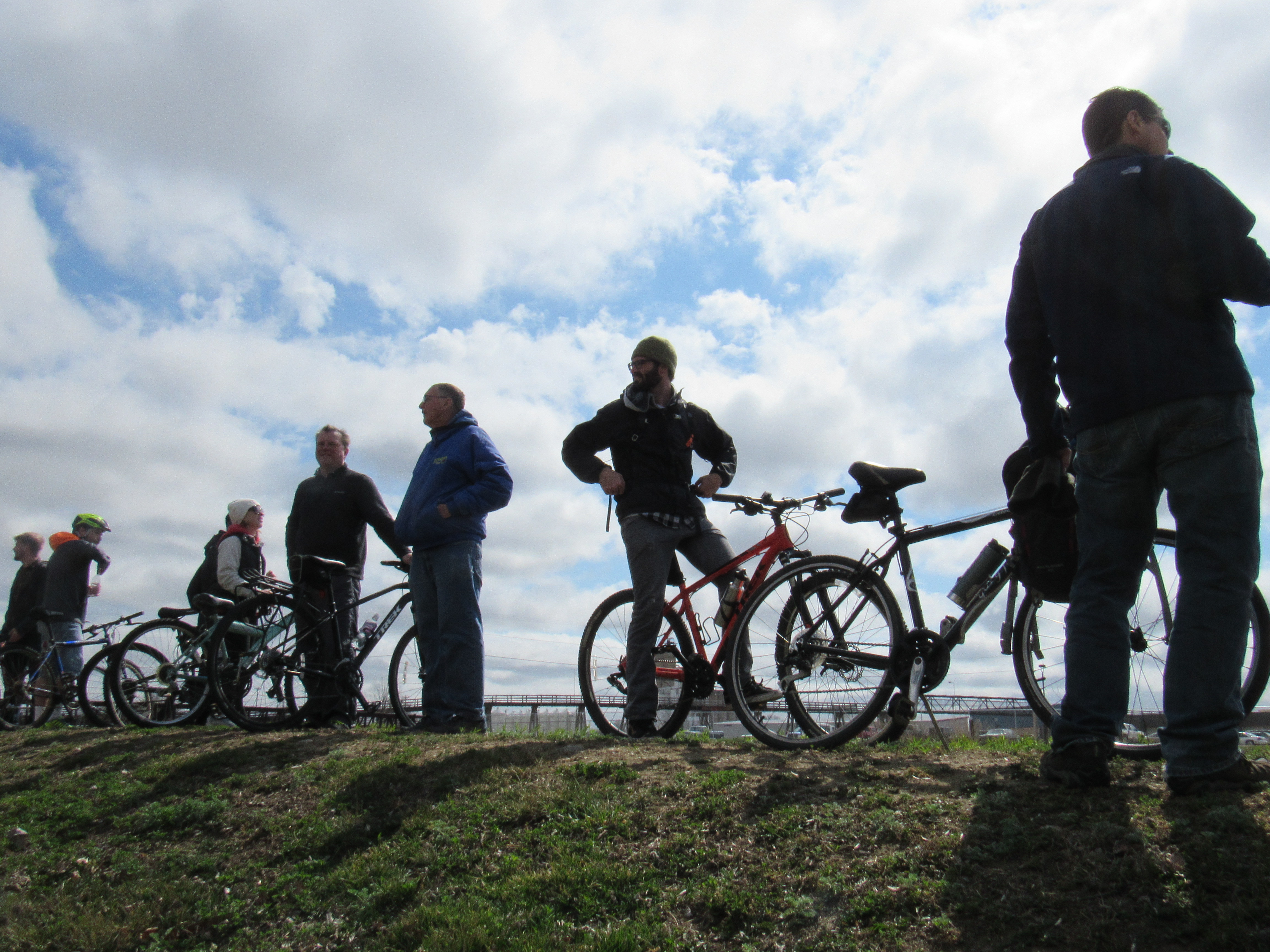 Citizen volunteers get ready to "Ride the River." Photo Credit: Andrianna Betts/City of Minot
FSR members Shannon Straight and Josh Wolsky explained their group's vision for Minot residents to engage more with the river. They are hoping that the city will include in its flood control plan the opening of the dead river loops, which have become collecting pits for trash.
"We have an opportunity to right some wrongs from the past as well as to re-invigorate the river culture in Minot, and for people to recognize the river as an asset," said FSR member, Brady Randall. "There's a wider vision of opportunities like kayaking, paddle boarding, and fishing. That's where I see we have a real opportunity," he said.
Among the other speakers at the event was Dan Jonasson, City of Minot public works director. Jonasson showed maps and illustrations of the city's flood control projects. Some of these projects include the flood wall, recreational pathways, and green space. At a time where there are signs along the Souris warning the public to stay away, Jonasson recognizes the importance of making the river a safe and welcoming space for all.
"Any place we can incorporate green space, a park area, to get people down to the river and enjoy it, we will," said Jonasson. "It's a big part of the project. The citizens need to feel comfortable and want to come down and enjoy the river."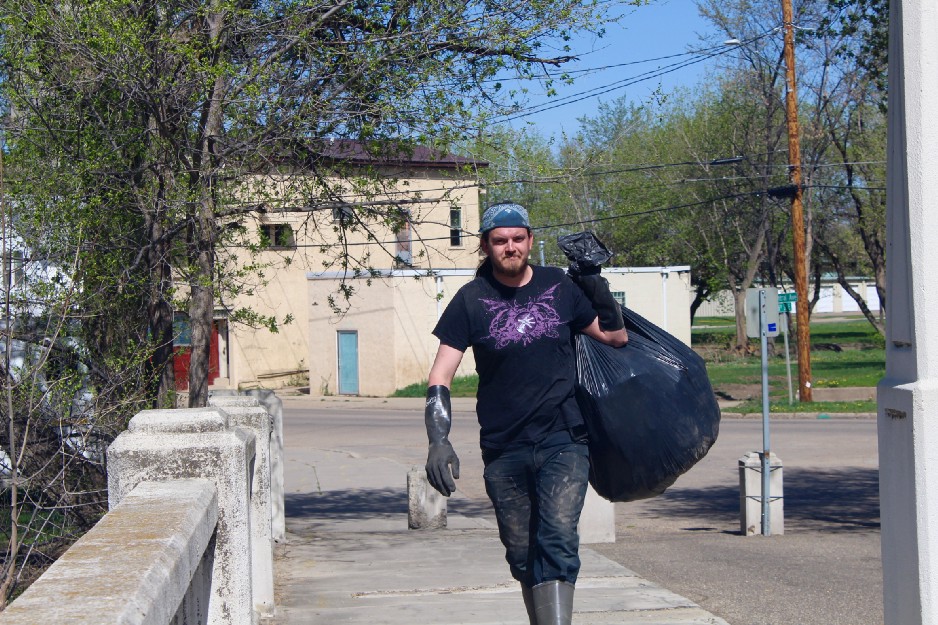 A citizen volunteer helps with cleanup efforts around the Souris River in North Dakota, USA. Photo Credit: Andrianna Betts/City of Minot
First River Cleanup of 2017 is Held by Resilience AmeriCorps Members and Friends of the Souris River
Creating an enjoyable space around the Souris requires improving the river's aesthetic appeal; trash can be found submerged in the river and scattered along its banks.
To promote water appreciation and reduce river pollution, the members of FSR held their first 2017 river cleanup on 6 May. Starting at the historic Eastwood Park Bridge, we worked alongside over 20 dedicated volunteers who braved steep river banks and murky water to clear ­trash out of one of Minot's last natural river channels.
Monica Peterson, a participant in the "Ride the River" event and a cleanup volunteer, described her vision for the city's river future. "The river should be a place where people can hang out and enjoy, rather than avoid. Since I live in Eastwood Park which is surrounded by the river, its cleanliness and appearance is important to me." Another volunteer, Kelly Matalka, shared a similar optimistic outlook for the river's future. "As a member of the community of Minot, I think it's important to make it a place that I am happy to call home, which includes maintaining a clean environment and using its resources in beneficial ways."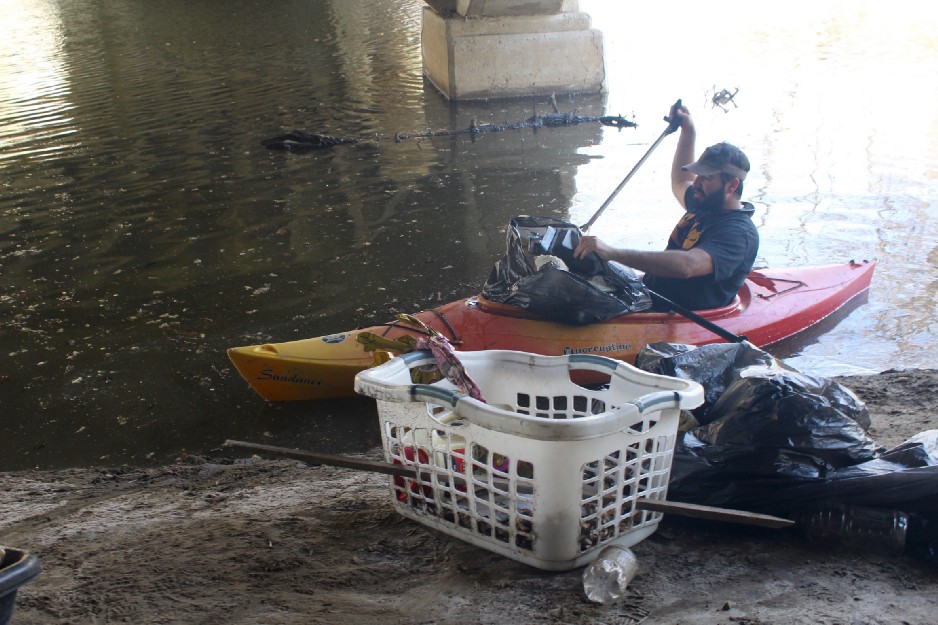 A citizen volunteer takes to the water collecting litter and debris from the Souris Riverin North Dakota, USA. Photo Credit: Andrianna Betts/City of Minot
River Cleanups Bring the Community Together to Benefit from a "Cleaner, Less Polluted Earth"
The river cleanup resulted in a total of 1,500 pounds of waste being collected within three hours. The larger debris pulled from the river included patio chairs, a wagon, and a mailbox. While it is unclear how long this trash has sat discarded in the river, likely some since the original flood in 2011, what is evident is the need for more cleanups in the near future.
Community members like Devin Kampman are aware of the role they play to keep the river clean. "It was important to volunteer for this because we all share this planet and I believe that we can all benefit from a cleaner, less polluted earth," he said, "Besides, it just looks much better when there isn't trash and refuse strewn about."
It will take continuous effort and coordination by the city and its residents to make the Souris River — the 'Mighty Mouse' — a source of pride once again, but based on what's been accomplished over the last year, all signs are pointing upstream.
. . .
This story originally appeared on Zilient.org and was written by Andrianna Betts, Cities of Service Resilience AmeriCorps VISTA Member serving in Minot, North Dakota's city hall.