AmeriCorps VISTA Member Sam Gordon
Sam Gordon served as a Cities of Service AmeriCorps VISTA in New Orleans as part of the Resilience AmeriCorps program. In his role, he acted as a liaison between city hall and New Orleans communities, organizing citizen-led efforts to fortify the city against extreme weather events. Today, he works as the Communications Manager and Neighborhood Liaison in the Mayor's Neighborhood Engagement Office in New Orleans. The connections to city staff and residents he made as a VISTA member have been essential in his new role.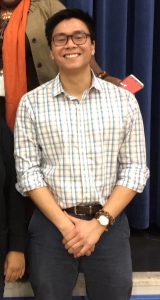 How did you end up in your current role?
I got this job because the work I was doing as a VISTA overlapped a lot with the folks in the Neighborhood Engagement Office. They saw that I was doing good work and called me in for an interview. They had an opening for a liaison position.
How did your service year prepare you for this role?
Before I was a VISTA member, I had honestly never stepped foot in a city hall in my life. My year as a VISTA, working out of an office that touches on a lot of city programs in the context of a fascinating city like New Orleans was a good learning experience of how local government functions. And I had never been to New Orleans, so the year gave me a really good introduction to a new city and a new sector of work. It's honestly been invaluable. I entered this role informed on the ins and outs of the city, what each city department does, and a strong understanding of the New Orleans community: how the community reacts to certain things; the city's culture and the city's people. And that's been invaluable.
Are there residents you've stayed in touch with?
One of the big things we were working on when I was a VISTA was cleaning catch basins. We launched a campaign in August 2017 that included a number of catch basin cleaning days. This was in direct response to the city almost completely flooding after a big rain storm. One of the catch basin cleaning days was in a neighborhood called Hollygrove-Dixon. I got the chance to meet the neighborhood president there. She loves her neighborhood and is a good person all around. Actually, I interviewed her, Ms. Brenda Lomax-Brown, for the Cities of Service Unsung Heroes series. When I joined the Mayor's office staff, I became the council District A liaison, and Hollygrove-Dixon is one of the neighborhood associations in district A. I basically did a full circle and I've spent the last eight months as Ms. Brenda's neighborhood liaison in the Mayor's office, so I've been able to work with her again.
How did your service year impact your career path?
My VISTA term allowed me to get my boots on the ground in the working world. It helped me land the job that I have now, serving the New Orleans public. I've always had a long-term interest in urban planning and going back to school to get a masters in urban planning.
How do you make New Orleans a stronger, better place to live and work in?
My VISTA term gave me the experience of being able to hear what residents in a community are most interested in, what their concerns are. My job right now is to be the eyes and ears in the community for what people are talking about, what people are concerned about, what people want to improve. I report back to city hall to inform policies and programs that the city runs to help tackle their concerns. I'm finding this whole experience to be invaluable in my long-term career outlook.