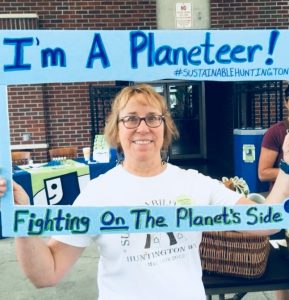 Seeing a dilapidated house in her neighborhood drives Huntington resident Leslie Petteys crazy. So when she sees one, she's sure to tell city staff about it. 
"I made my husband drive me around and I took pictures and catalogued them and sent them in," she said. Her efforts have made a difference. "Bit by bit, many of those houses were gone." 
Huntington, West Virginia, is one of 10 legacy cities participating in the Cities of Service Love Your Block program, which provides a $25,000 grant, two AmeriCorps VISTA members, and technical assistance to help the city address blight. A former manufacturing hub, Huntington has suffered population loss in recent decades as manufacturing jobs left the city, leaving abandoned homes and blighted properties. 
City staff only have so much time to keep track of blight, so the contributions of Petteys and other residents like her are invaluable. A retired professor, her engagement with her city has grown over the years. She's in frequent communication with the local code enforcement officer, and actively participates to help improve her community. 
"I'm not afraid to get my hands dirty," she said. She organized the rehabilitation of a Boys & Girls Club in her area and joined her local neighborhood group, the West Huntington Organization. The group was a recipient of a Love Your Block mini-grant to make neighborhood improvements. She helped repaint signs and plant trees with other members of the group. 
Petteys also gave some constructive criticism to the city about the grant process. Her feedback has helped to improve the city's Love Your Block project, leading them to clarify their grant requirements. 
"She is a resident who will advocate until action is taken while always remaining generous and kind," said Huntington Planning Director Breanna Shell.
City staff listen to Petteys because she has valuable knowledge to share. And when she makes a complaint, she only does so because she wants to make her city a better place to live.  
"Nothing is going to happen if you don't say something," she said. "There has been a lot of progress, which makes me very happy."