Anyone who works in city government knows that you can accomplish much more working with others than you can working alone. Cities of Service Love Your Block AmeriCorps VISTA members Brooke Wells and Tyler Cook, who just completed a year of service in Hamilton, Ohio, may know that better than most. 
"Without the relationships we wouldn't be able to do any of this," said Brooke. "Resident input helps us shape the program to understand the type of changes they want to see."
Brooke, a native of Hamilton, and Tyler were both part of the Cities of Service Love Your Block program. The program provides grants to cities, which, in turn, give mini-grants to community members for projects that reduce blight in their neighborhoods. Cities of Service also places two AmeriCorps VISTA members in each community's city hall and provides technical assistance and support for city staff and the AmeriCorps VISTA members. 
Throughout their terms of service, Brooke and Tyler worked closely with their supervisor, Brandon Saurber, Director of Strategy & Information for Hamilton, who was leading the project. They collaborated with residents, community groups, and a host of partners. 
The importance of partnerships was easy to see on the first community work day. 50 volunteers, including residents and staff from TAMZ, a local construction company, helped six families in the East End neighborhood of Hamilton make exterior home repairs, do yard work, and clean up the area. 
Hamilton is one of ten cities participating in the Cities of Service Love Your Block program, and the city is working with community members and partners to identify houses that needed small-scale repairs and help the owners make improvements. 
There are a number of reasons that homeowners could not make the repairs on their own: some don't have the financial resources, others don't have the time or equipment. Some have been ill. 
East End resident Keith, for example, had been in intensive care. Peggy, his wife, had been spending her time in the hospital with him and the yard work had been more than Peggy could handle on her own. So her neighbors helped her, with support from the city and the Love Your Block team.  
She was overjoyed at how beautiful her home and yard looked at the end of the day of work. "I wasn't expecting all of this. I just can't believe it," she said. 
Brooke and Tyler relied on relationships with neighborhood leaders to connect with residents. The principal of a local school helped them identify residents who might need help, and an organization called 17 Strong, which works with residents in Hamilton's 17 neighborhoods to improve their communities, connected them with neighborhood groups. 
"I wasn't expecting all of this. I just can't believe it."
Hamilton resident, Bob Batterson, for example, had lived in the Armondale neighborhood for 32 years with his wife, Yvonne. He wanted to become more involved in his community and started attending 17 Strong meetings, which is how he was connected to Love Your Block. He and his wife Yvonne received repairs and landscaping work on their home. He has since been working with 17 Strong to start a neighborhood group in Armondale. 
Brooke and Tyler spent a lot of time developing relationships with residents who received the home improvements, especially with residents who were skeptical of the city's intentions. 
For example, another Armondale neighborhood resident applied to have her home be included in the program. When Brooke and Tyler followed up by bringing in the health department and TAMZ construction to help determine what work needed to be done, she began to reconsider participating, fearing that she might be cited for code violations. It took a few calls, but they were able to convince her that they were not trying to get her in trouble but rather wanted to work with her to fix the problems and eliminate any potential code violations. 
Much of the work involved simply raising awareness, going door to door and showing up at local meetings and events. Neighborhood champions helped throughout the process – people like Vicky, another East End resident who regularly attended neighborhood meetings and helped canvass the neighborhood to tell people about Love Your Block.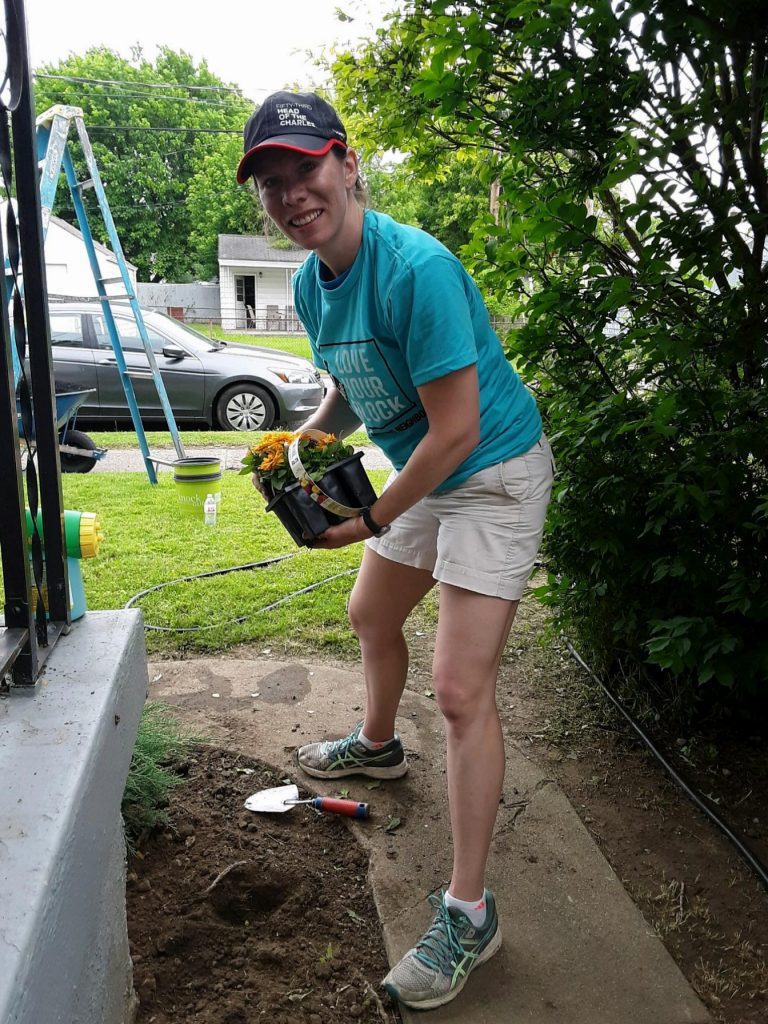 Partnerships with local businesses and nonprofits were also key to the success of Love Your Block in Hamilton. 
TAMZ construction company helped assess the scope of the work for potential projects and provided skilled volunteers to do things like replace doors; Lifestyle, a local landscaping company, provided help with landscaping; and Sherwin-Williams provided paint and volunteer labor for work done during a work day. Staff from the local Habitat for Humanity chapter also provided ideas and advice.
"It wouldn't be possible to do it by ourselves," said Tyler. "You need those connections to really make it happen."
Cities of Service provided considerable support from the start of the program, beginning with the Love Your Block Academy. This was a two and a half day training where AmeriCorps VISTA members and city staff learned about resident engagement techniques, began to plan their Love Your Block programs, and connected with one another and with Cities of Service staff to share ideas and ask questions.
"The value of connecting with residents – when you're face to face with them it can change their perception of the city."
Relationships continued to develop after the academy over the phone calls and online via Slack, both between AmeriCorps VISTA members and with Cities of Service program staff. Brooke and Tyler received advice and guidance regularly from AmeriCorps VISTA Leader Talia Ramella, who is based at the Cities of Service Office in New York, as well as Cities of Service Program Manager Nikola Pavelić.
"Nikola and Talia are always willing to celebrate the small and big victories," said Brooke. "It's really nice to have the support from other VISTAs as well and to know that you're not alone when you're going through some challenges."
After months of hard work and planning behind the scenes, the city got to work on the houses with residents. Nearly one hundred volunteers worked on a dozen homes in the East End and Armondale neighborhoods in May and June. Residents painted and made minor exterior repairs, removed more than 10,000 pounds of garbage and brush, and did yardwork and landscaping around the homes.
Volunteers include the homeowners and highschoolers like Michael and Isaiah, two Hamilton High School students, who worked for more than nine hours to help complete work in East End and Daniel Cassidy, who lives in the East End neighborhood and brought his weed eater to help.
As they wrap up their year of service, Brooke and Tyler can look back on the impact they have helped make on Hamilton communities and reflect on the lessons they've learned. 
"The value of connecting with residents – when you're face to face with them it can change their perception of the city," said Tyler. "That you care enough to be there – I think that goes a long way." 
And it's just the first year of the two-year Love Your Block program. Brooke has been hired on by the city of Hamilton to continue working on Love Your Block as part of a new department that will work with neighborhoods. Two new AmeriCorps VISTA members joined the city in September. 
"You have to be patient and you have to be persistent because it takes time to build a program," said Brooke, which is why Cities of Service sends AmeriCorps VISTA members to the cities. They give the city extra capacity to build relationships and trust with communities that helps the city make a real impact on the lives of residents, with residents. 
"You have a lot of doubts in your year as a VISTA because there are a lot of challenges. Some days it feels like it's not going to work out," said Brooke. "To see everything come together and how passionate residents are in my city – that made everything completely worth it."