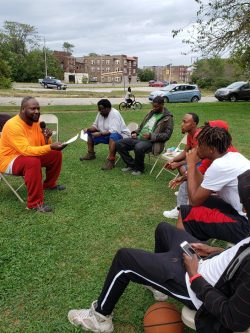 Jeffrey Edwards and his sons started small, going out to cut grass and pick up litter on empty lots in their neighborhood, located in the Horace Mann district. 
Like many legacy cities, Gary, Indiana, has struggled to address vacant properties and blight after industrial jobs left the area. People like Edwards are helping to make a difference in the community. 
"We're just getting out there and doing the work," he said. "We try to lead by example."
Thanks to his hard work, his neighbors, and help from programs addressing blight like Love Your Block—he's not doing it alone anymore. 
Gary is one of 10 cities participating in the Cities of Service Love Your Block program, which provides a $25,000 grant, two AmeriCorps VISTA members, and technical assistance to help the city address blight.
Edwards moved to Gary with his wife, a native Gary resident, in part to counter the decline in population and other recessive conditions and give back to the city she loved so much as a child.
"I started reaching out to my neighbors and encouraging others," he said. "If we work together, we could really improve this block." 
Edwards established a 501(c)3 neighborhood organization, Gary Community Partnership, to help spearhead this effort. With a dedicated core group of 5 to 10 people, the partnership has begun to make an impact and draw in other residents to help. 
In addition to advice and support from the Cities of Service AmeriCorps VISTA members, Gary's Love Your Block program provided mini-grant funding and established a neighborhood tool-lending library with equipment like lawnmowers and shovels. 
"The AmeriCorps VISTAs play a key role in making all of this work," he said. "You need someone who is actually working with community members." 
In their first year, the Gary Community Partnership improved and maintained 15 vacant properties in the area and rejuvenated nearby Rees Park. A grant from the Legacy Foundation will help them do even more to enhance the park. 
"Everyone should have an opportunity to be able to enjoy the park," he said. "We really want to change the narrative on the value of the park. It's something that can be shared by the community." 
Volunteers have made improvements large and small to Rees Park. Without park benches, youth would often turn over trash cans to use them as seats.  Edwards saw this as an opportunity to work with teens and adults alike.
Together, they repurposed concrete blocks and plywood from a decaying playground in the park and built DIY benches. With support from the parks department, they replaced the unusable playground with an entirely different one that was transplanted from a shuttered school.
Edwards is passionate about reaching out to local youth. He often recruits teenagers to help keep up the neighborhood, and when possible, offers them a small stipend as incentive. 
"These kids help out because they see the benefit of their support with projects like restoring the basketball court. But sometimes they ask for money to get something to eat and I feel like it's the right thing to do."   
In 2019, Gary Community Partnership held a listening session with teenagers in the neighborhood. "We want them to understand that adults are concerned about what's important to them," said Edwards.  
Among the concerns identified by the youth, aged 12 to 17, was how to make money over the summer, so Edwards is working on creative ways to get them summer jobs. 
His efforts to create partnerships with area businesses are paying off, too. The local McDonalds now supports the community group by offering free meal cards to volunteers.
Actively reaching out and listening to his neighbors has made Edwards a leader in his community. His actions are helping revitalize the neighborhood and contribute to making Gary a better place to live.
"I've learned so much from volunteering and what it takes to bring momentum to a community effort," he said. "It's been a really good experience!"