Cities of Service is raising up leaders in city hall so that they can, in turn, raise up neighborhood leaders in their cities.
In October, Cities of Service held the Love Your Block Academy for AmeriCorps VISTA members and city staff in Orlando, Florida. Participants came from 10 legacy cities around the country preparing to implement our Love Your Block AmeriCorps VISTA City Hall program. Cities of Service provides each city with two AmeriCorps VISTA members a grant of $25,000 to revitalize neighborhoods in their cities, along with ongoing technical assistance over two years.
Their Love Your Block projects will engage citizens to clean up vacant lots and abandoned buildings, help people repair their homes, and make their cities better places to live. The participants spent two and a half days learning, connecting with one another, and beginning to plan their programs. This kind of collaboration is an essential part of our work—it's the work of fostering leaders and growing networks that will build stronger cities.
Participants included AmeriCorps VISTA members, many of whom are recent college graduates, and senior city staff. They all shared a strong desire to learn and to serve.
AmeriCorps VISTA member Nathan Thomas chose to serve because he loves his city, Huntington, West Virginia. "It's a city that knows its faults and is desperately trying to improve," he said. He was working at a call center before becoming a VISTA member, but it wasn't fulfilling. "I wanted to do something more meaningful for the community."
Even experienced staff members we've known a long time, like Oswaldo Mestre, Director of Citizen Service for the City of Buffalo, are learning and becoming stronger leaders. Mestre connected with Cities of Service years ago because he wanted to more effectively work with residents. "I said, there has to be a better way to do this," he explained. "Cities of Service provided a model for me [to work with citizens and make an impact]."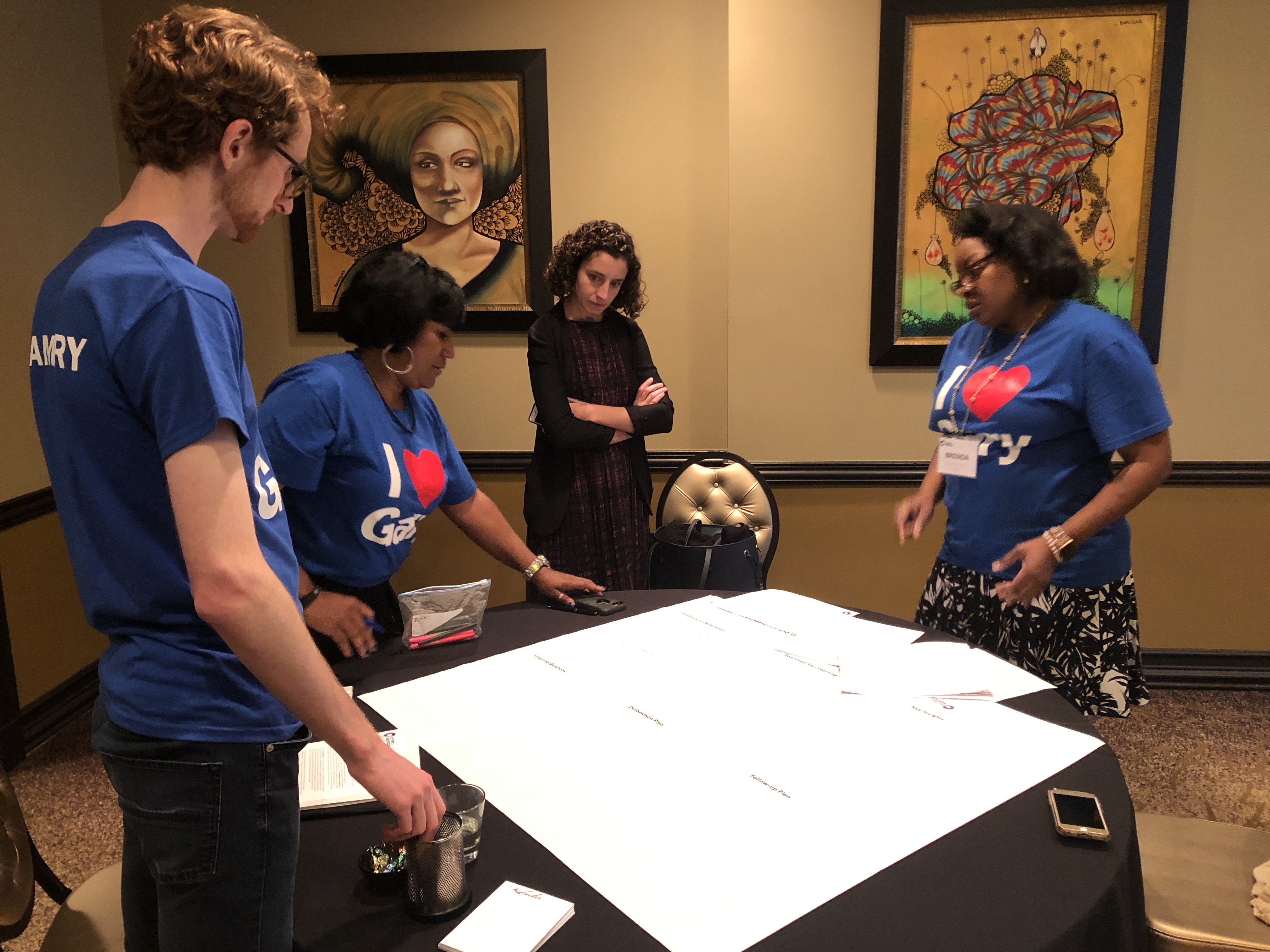 At the academy, we gave this group of leaders the tools, time, and space to develop plans that will have a lasting impact on their cities. They don't necessarily need new technology or some fancy new problem-solving methodology. They need the support of colleagues who are facing similar challenges, fresh ideas and new perspectives, and, often, they need a little push to think more deeply about the critical role that citizens can play in solving problems. And that's what Cities of Service provided in Orlando and what we will continue to do for these leaders as they continue to implement these programs over the next two years.
The academy was an important opportunity for us to connect city teams with one another. Because budgets are tight and staff is thinly stretched, a sense of purpose and a strong support network are essential for this work. "The issues that cities are facing are not isolated,"  said Carl Patterson, an AmeriCorps VISTA member in Lancaster, Pennsylvania. "We're all in this together."
Not only did a new community of practice emerge–as it often does at our convenings–but cities had the time to get to work during workshops and planning sessions. Some cities, like South Bend, Indiana, were elated to be able to focus on planning the details of Love Your Block in their city, a project they are passionate about.
"I love doing stuff like this. It puts everything in perspective," said AmeriCorps VISTA member Kim Clowers, "We had puzzle pieces that were all over the place and putting it all together is huge for us."
Before joining AmeriCorps, Kim had already worked in community organizing, helping South Bend residents repair their homes. She now has the opportunity to expand her work and her ability to effect change in her city.
During working sessions, city staff spent time identifying stakeholders, planning a timeline, reviewing their activities and brainstorming new ones, while we provided guidance and and asked probing questions. It was hard work. We ask a lot from our cities and we give them a lot of support to help them meet their goals and make lasting change in their communities.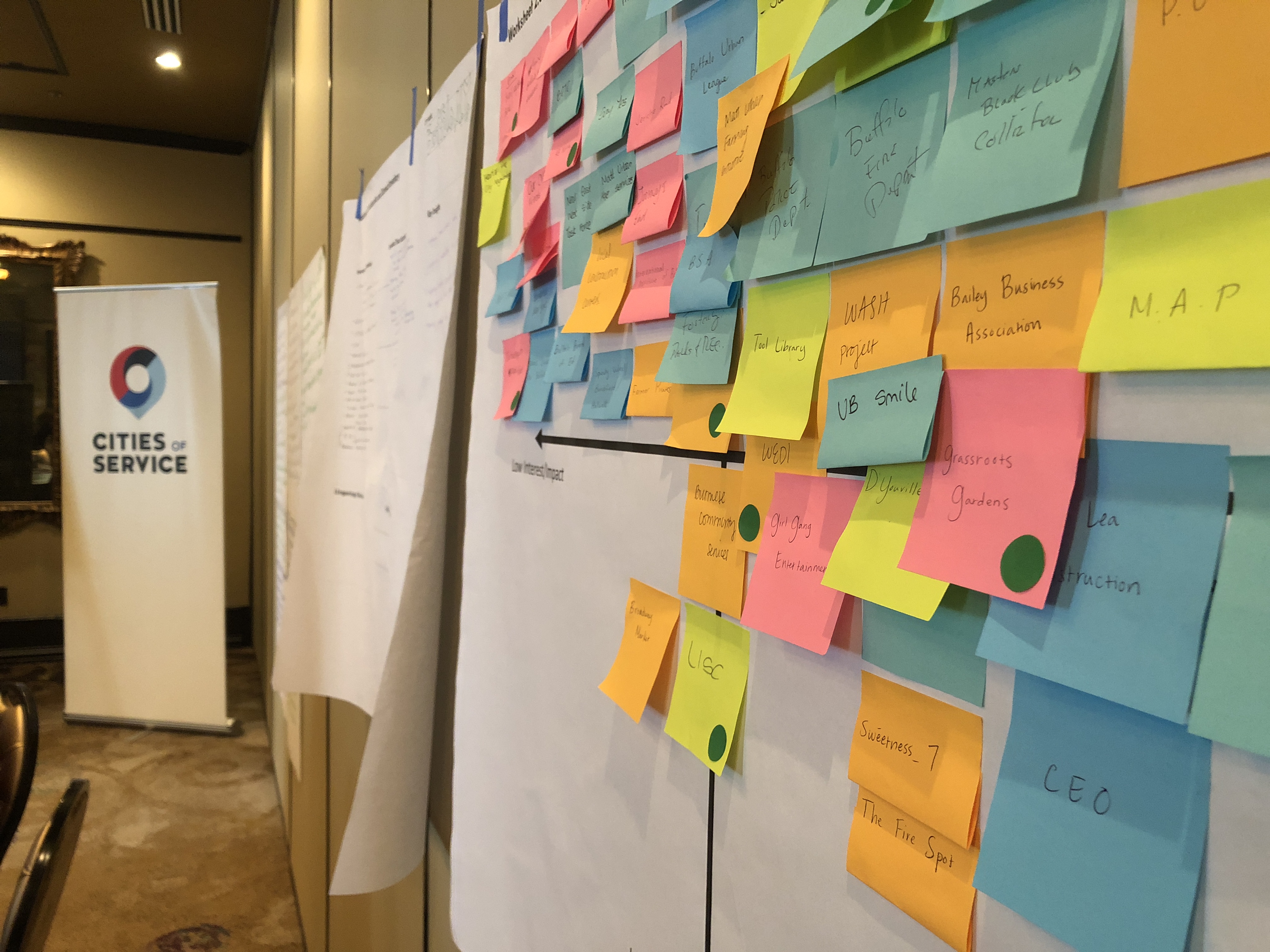 "It was good for understanding where we are," said Janice Castle, who is Director of Community Engagement for Hartford, Connecticut. "I'm feeling hopeful."
Molly Wirz, an AmeriCorps VISTA member from Milwaukee, said, "On Monday I'm going to be ferociously writing notes and all the academy thoughts together to try to get concrete ideas down."
Others agreed: there is still a lot to do.
While Love Your Block starts small, addressing community challenges block-by-block, our long-term goal is big: to build stronger cities and strengthen the social fabric that holds our cities—and ultimately our democracy—together. We're raising up leaders in city hall so that they can, in turn, raise up neighborhood leaders in their cities.
None of this can happen without community. The connections formed in neighborhoods between citizens and with city leaders, and the relationships formed between colleagues when they come together to examine a shared problem—these are the essential networks that make up our cities, and the stronger those networks are, the stronger our cities will be.